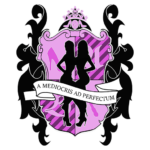 Welcome to the campus of the Pink Bimbo Academy!
Here, we deal with real life bimbofication, real life bimbo dolls, training, lessons for bimbos, bimbo trainees and advices for bimbo trainers and those who would love to become one. If you don't know what bimbofication is, or if you have questions or bad thoughts regarding the whole topic, I would strongly advise you to visit our FAQ, there, most misunderstandings should be solved.
You can reach all our different sections from here in the sidebar. Use the search-box in the sidebar to find specific topics.
If you are a bimbo trainee, you should have a look at our curriculum. There you can plan your training and your progress. Depending on your status, you can go through the bimbo training area on our site, where all articles for bimbo trainees are located or search for specific lesson papers in our lesson-section. Click on the lesson you are interested in, on the interactive curriculum below: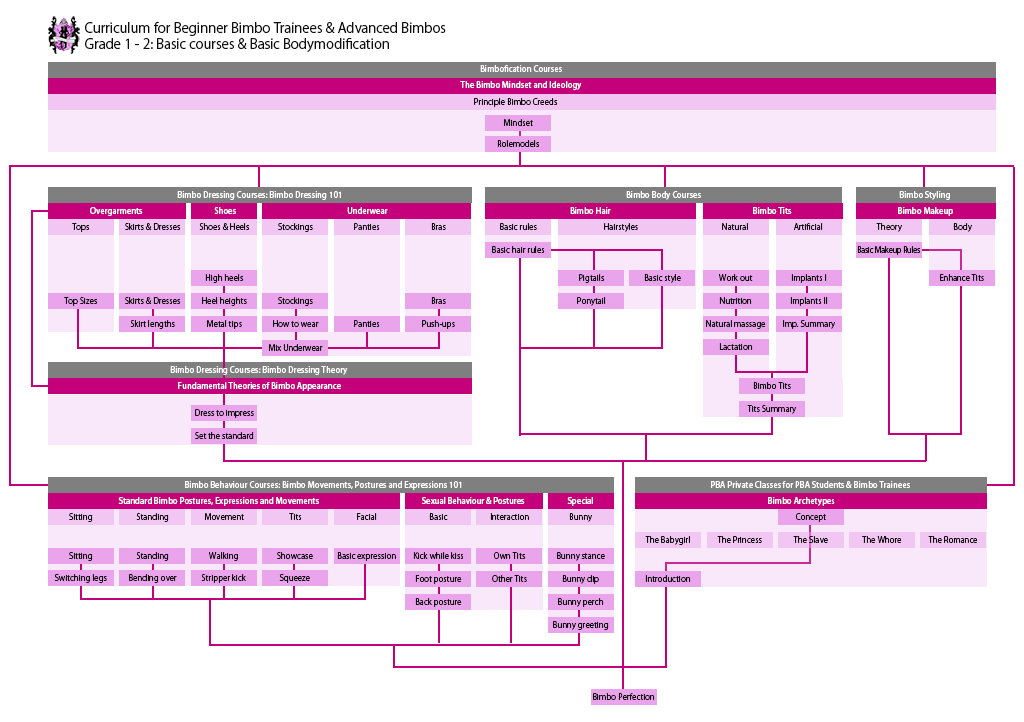 Always wear high heels - never wear flat shoes
Height of heels and shortness of skirts and dresses
Refining your walk and the stripper kick
Never wear pantyhoses - always choose stockings
Never wear pants – always choose dresses and skirts
Wearing the right panties the right way
Bimbo perfection can't be achieved – You can approach it asymptotically! Try to get there!
Procedures to increase the size and state of tits in a natural way
Raising a leg while kissing (standing)
The basic standing posture
Showcasing your tits – Squeezing and pushing up
Crossing legs & switching legs
The basic elements, concerning the tits of a bimbo
The default bimbo hairstyle
The basic elements of bimbo hairstyling
Wearing stockings correctly
The fundamental foot posture
How to bend over and pick something up
The basic facial expression
Height of heels and shortness of skirts and dresses 2
Workout and training to get the tits of a bimbo into shape
If you are a bimbo trainer, you might want to have a look at our trainer-section, where hints and techniques are given to improve the training of your bimbo trainee. In addition, over the time, there will be strategies posted on how to bimboficate "normal girls".
Other parts of the campus you might want to visit:
The rolemodel section, where we discuss several legendary bimbo rolemodels, and discover how and why they made such an impact on the bimbo culture.
Our spotlight section is where different bimbo dolls and trainees will give interviews and tell us something about their bimbofication and their goals. This section is usually used to introduce the community to new bimbo dolls and give a shout-out for them.
If you are a fan of the dark side of bimbofication, you should visit the "gimbo-section" of our campus. Gimbos, or "goth-bimbos" are in the goth subculture, what bimbos are to normal girls: Superior female princesses, with a strong sense for sex appeal and style.
Our style-checks are short analyses of different bimbo girls and their style. You can get some inspiration by having a look at those, as well as test your own understandings of our styling rules.
To get involved or start a discussion, post your questions or get help from the community, please visit the PBA subreddit. There you can interact with other members of the community and talk about your ideas of bimbofication or particular lessons or rolemodels. If you are a dedicated trainee or trainer, make sure to visit our PBA merch store, to get some official PBA bimbo gear! If you want to support the Pink Bimbo Academy, you can become a patron on Patreon, or donate different kinds of crypto currencies. Thank you very much, your help is appreciated and very welcomed!
In addition – make sure you follow us on tumblr, twitter, and minds.
Enjoy your stay and come back soon!