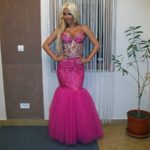 Done right:
What is your overall impression judging this style and dress? I may not be the only one who thinks about a crossing between a prom night dress and some arabic bellydance outfit – in a bimbo way ofcourse. Something that can't go wrong. The arabic touch has something very exotic and sexual to it, showing her belly and leaving the top of the dress with little more than a bra. The bellydance outfits always have the purpose of drawing attention and the gaze of male spectators, supporting naked skin with glittering and flashy decoration. Here we have pink color with silver twinkling ornaments – something a bimbo should always choose to wear. The tight fishtail dress emphasizes her ass and widens to a puffy, tulle prom night lower part, which sadly doesn't show her legs and high heels, but appeals in a cute and girly way. So we have two things coming together, which are both always the right decision for every bimbo: Bellydance outfits and prom night dresses! She made the right decision with her accessories as well: Arabesque ornament earrings which fit to her dress and tanned skin as well as her pink lipstick matches the pink color of her outfit. Heavy eye makeup and glittering french nails are also the right choice.
Done wrong:
Bigger tits – as always. I wish she would have decided to wear some more jewelry, in fact, way more jewelry, fitting to the bellydance theme like bangles, bracelets and necklaces (hanging between her tits to emphasize them even more). Some low hanging glittering and ringing bellydance belts would have also been nice to produce a jingeling sound when she shakes her ass.
Conclusion:
A very nice composition of two themes perfect for bimbos in bright pink. You should wear it on parties in the club, and on private parties. And is there a bimbo trainer who wouldn't want a private bellydance performance – or for him and his friends?