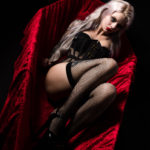 Maybe some readers of my tumblr blog remember when I asked for the support of some gothgirls to answer some questions I had. Well, the result is some kind of mini-series you are about to read now – at least, the first part. I was looking for one or more goth girls (and I still am! Contact me if you are a goth girl and want to help me out!) to have a little talk about bimbofication and what it means to them. Here you guys get the first part of such an interview, the general introduction and some first thoughts about bimbos, gimbos and bimbofication in the gothic subculture! I have to thank Mimi a lot for participating and for her honesty and the effort she made to answer my questions! Maybe you guys want to have a look at her tumblr, follow her and drop some likes! It's really awesome to get some help from an actual real goth girl who is so kind and supporting! This part will deal with a general overview of her thoughts, to introduce the community to the perspective of a goth girl on the whole idea of bimbofication, before we go on to some more specific questions about goths and bimbos and bimbofication in the gothic culturue in the next parts. Expect the next parts really soon! So, now let's dive right into it:
Hi, I'm absolutely happy you decided to assist here, concerning the topic of "Bimbos, Goths, and Gimbo girls"! Can you tell us something about yourself?
Hey, thank you for this opportunity! My name is Mimi, I am 28 years old and based in Northern Germany. I am more or less part of the Gothic subculture for 15 years now, always open for new things and styles and now I am already looking forward to your questions about Bimbos, Gimbos and all this stuff I am pretty new to. 🙂
So, speaking as a goth girl, what do you generally think about bimbofication and bimbo girls? How did you came into contact with this concept? Do you have more negative or positive feelings towards these beauty ideals and the visual appeal?
At first I was pretty suspicious about the whole topic because most of these girls look very fake and at first glance seem to not be happy with their bodies. Why else should they want to change so much of it? The image of the super sexy, often submissive woman highlighting the body parts mostly heterosexual men are obsessed about and representing the classic 'trophy wife' seemed like a step backwards in emancipation to me and to be fair,  I had the prejudice of "the plastic dumb girl" like a lot of people who are new to this. Personally, I like it better when people have a natural looking body and "flaws" like thin lips or small breasts don't bother me at all. Sometimes it's even the reason I think people are beautiful. So bimbofication never really played a role in my life until Candy Plastique started hers. I met her almost 10 years ago and of course she has always been a bombshell and I looked up to her. But recently she changed – for the better of course as you can see for example on her Instagram and Patreon – and we talked a bit about that and I read and saw a few things online. It's a pretty interesting topic I think and it didn't need much until I overcame my prejudices. A lot of this really happened because I started to follow some very beautiful and interesting girls on Instagram which are bimbo-positive or are already further in their bimbofication like MyLittleVronie (Sweden), Freya Phoria (UK) or Alicia Amira (Denmark/ UK) who some weeks ago made a very open post about her bimbofication and the prejudices she has to deal with and that definitely opened my eyes. My personal motto is "If it makes you happy and doesn't hurt others – do it." and that also applies to bimbofication although it's generally not a style I'd see on myself, not only because I am chubby. The "classic bimbo style" is too much pink which often looks scary combined with my natural ginger hair color and many clothes and shoes don't look too comfy which is a very important factor to me. But all in all you could say yeah, I am pretty bimbo positive now and I am already reading your blog here with great interest for some months already.
I'm sure by now you did some research on the topic, maybe even had a look this blog before, so can you tell us what you specifically like about bimbofication, what elements you could think of adopting and make use of?
I really like the idea of visual perfection, always giving 100% and making the best out of you. I like seeing perfection and I absolutely adore details because I am a very visual type and there are few days when my nail polish doesn't match my outfit in some way. I like the overall sexy style bimbos and gimbos show. But as I mentioned before, comfy clothes are very important to me and I couldn't show up at work in a short dress or heels due to my heavy customer contact and work safety. Openly living your dream, your fetish and being comfortable with yourself in a Bimbo style is a new perspective to me and I like the confident attitude a lot of those girls seem to have. One thing I already do is absolutely hating pants. I only have two jeans for days when I am really lazy or overslept and I wear them exclusively at work. For the rest of the year it's skirts and dresses for me. I hate the feeling of pants on my legs (tights are a different thing) and I think most women look absolutely smashing in skirts and dresses. Another part I like is the aggressively sexy style combined with a lot of fetish stuff. I am also part of the BDSM scene and despite me being all for gender equality and stuff, I absolutely love being the submissive part when it comes to sex. I noticed a lot of bimbo girls naming themselves "fuck doll", "slut" and other things that normally are considered sexist or humiliating and I like that attitude a lot. I think it's not a step backwards but a step forwards (even in feminism) because women's sexuality was a taboo for many centuries and I really like that many Bimbo girls give a shit about that and openly talk about porn, sex work and fetishes today. And last but not least I love that many Bimbo girls are very supportive not only when it comes to bimbofication and their close friends but at the same time don't try to talk others into their lifestyle.
Do you think bimbos and goth girls could get along, maybe even should get to know each other? What could be things they could learn from each others?
They'd certainly get along! But I think first some of the Goth girls should get off their high horse and get to know some new points of view especially regarding tolerance for other lifestyles. Most of the goth girls I got to know were very stuck up when it came to fashion and thought black (or maybe some purple or red) was the only color which was "allowed" for Goths. Everything colorful is "not Goth enough" – you can see this very clearly when there are any punks, cyber goths or metal girls around. Being tolerant with their own folk is nothing the (local) goth scene can be proud of. I think a bit of a color exchange could be great, too. Goth girls not all wearing the same black uniform and bimbo girls stepping out of their comfort zone with some black pvc/ latex or (fake) leather instead of all this pink only would be nice I guess. But I think the different music taste could be a problem for some. I noticed that a lot of Bimbo girls tend to mainly listen to hardstyle, techno and other party music while Goth girls vary from Industrial (which is actually just a dark techno style) over metal, Middle Age and 80s to artsy bands like Sopor Aeternus, but maybe this isn't a real problem.
Stay tuned for the next part, where we get into details about gothgirls and bimbos…!
Discuss this on the academy subreddit!
Support me on Patreon! Every donation helps!