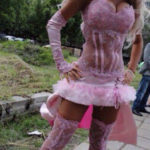 Done right:
Platinum blonde long hair, with a massive amount of extensions, styled in a bulky mix of princess corkscrew curls and a girly flower in it. Heavy make up with dark contours and a pink palette of different shades, which mesh with her artificial tanned, flawless skin. The collar she's wearing looks like the famous "must-have" swarovski rhinestone collar (another piece every bimbo should have) and fits her bracelet perfectly. Her robe looks like a barbie-princess/whore-mixture, a classy bimbo girl should wear on her prom night, revealing and pushing her tits in a perfect way, showing a major part of her legs, and, more important, of her stockings (which is mandatory!). The stockings are the most perfect detail of the whole style: A perfect matching color, fine lace, thin and shiny underline her legs in the most beautiful way. The fact she's wearing only one glove is an artful little hint, that this bimbo princess is a naughtly little brat, who disobeys the normal dress conduct (someone needs a little spanking tonight). The metallic pink high heels are the best finish this outfit could have and support her look of a pristine young bimbo princess.
Her
sitting posture and posing could be a little better, pushing her tits out wouldn't have hurt, but the way she crossed her legs and raised her robe revealing her legs so everyone could see her thigh and her stockings is the proper way to sit for a bimbo and couldn't be any better. I like the thought, she luffs her leg, or maybe just her foot with those beautiful pumps in the air.
Done wrong:
Almost everything is perfect about this picture and our little bimbo princess. Her tits could be way bigger, but I think thats something she knows by herself and plans for the time after her prom night.
Conclusion:
This is a look every bimbo should do on events like proms, genuine parties or weddings. If someone knows, where to get stockings like these, pls drop me a message, I need those for my girls.
9 out of 10
Update 02.14.2017:
We got a second picture of this little bimbo angel (second above, sent to me by @thesciencejesus – thank you!)! This picture shows us, that the lower part of her sexy, pink robe is in fact detachable. This makes it even more perfect, because without the long attachment this outfit is far more suitable for dancing and partying – and shows more of her beautiful legs and stockings – but shouldn't be detached until it's necessary! We're still looking for a name of this sweet bimbo doll, if you know or have more pictures of her, please drop me a message!