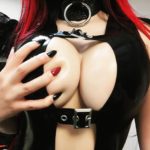 <<< Go to part 2 – The gimbo idea
Welcome to the third and for now last part of our first interview with goth girl Mimi who was so kind to deal with some of my questions regarding the gothic community and its view on the whole idea of bimbofication and gimbos. I think we all got a very unique an special view on the topic, through the eyes of an involved girl who is in contact with many other goth girls, and I would like to thank Mimi very much for being so honest and kind. Before I present you this last part of this interview, I would like to make an announcement: The things Mimi said, why goth girls may wary of the gimbo idea, silicone tits, bimbofication and so on, why there are only so few girls you could call "gimbos" and some ideas of beauty, sexappeal and femininity, were pretty thought-provoking for me. As I already announced, I will continue with our series about "different gothic substyles" – but I will add a few things and mention some aspects Mimi talked about here. Maybe coming parts of this series will encourage her to work with me together again and she will help me out there. So, have fun now with the last part, where you will hear why only so few girls in the gothic community do have big, fake tits – and stay tuned for more content and maybe some more stuff from Mimi in our series about gimbos and the gothic culture. Maybe we can change things a little, I would very much like to hear your thoughts and comments! 😉
The whole gothic community is very open when it comes to some sort of body modifications. Piercings, tattoos, sub-dermal implants etc… everything that wouldn't be seen as "pretty and beautiful and sexy" from an outside standpoint. But when it comes to breastimplants, the whole gothic community seems to be very opposing and downright hateful. Why do you think is that so?
First of all, people have different aesthetics. I certainly have a preference for people with piercings and tattoos because I really think that these body mods are very sexy. I have a lot of piercings myself and actually plan on more tattoos. But to answer your question: In my opinion the lack of breast implants – not only in the Gothic scene – is caused by prejudices against body-modifying surgery in our society in general. People altering their bodies with surgery often are bullied and seen as superficial or even less intelligent than others thanks to many "society experts" and a lot of boulevard magazines. Furthermore you could say that generally speaking, Goths don't want to fit into the mainstream where (next to a lot other stuff) big breasts are a main goal for women so they are naturally opposed to that. And last but not least I guess it's pure envy. Of course I can only talk about my local scene but a lot of girls here are talking bad about others when in reality they are jealous. They don't have the money to do those things, their partner doesn't like that look or even forbids surgery (and personally I think you should think about that relationship because a partner shouldn't forbid you anything even if it includes surgery but instead empower and support you) or they simply hate their own body to the point that they hate on everything they originally like. It's a bit twisted and of course not everything happens because someone is jealous but I really think that this a valid reason why some Goth girls are so mean when it comes to implants. Even if someone has correcting surgery like a nose job or with their jug ears people are judging and the people getting that surgery are trying to hide it. In my opinion there is nothing wrong with surgery! If you want to look a certain way and feel better with surgery, lip fillers, implants, body mods or hair dye just do it! That's what it's made for.
With this question in mind, why aren't there any more goth girls with some big enhanced silicone tits? We talked about many girls having the need to be stilized and sexy.. many songs in the gothic culture do cover these topics, like "Ich bin aus Plastik" (Welle:Erdball) and many, many more… why is it such a taboo? Where are the big titted goth girls?
The biggest problem here is the money I guess. A surgery costs several hundred dollars if not thousands (depending on the surgery) and not many girls have these possibilities or want to ask others for it on Patreon or similar websites. And the rest are presumably prejudices, personal taste or envy as I already mentioned above.
Gimbo rolemodels Starfucked and Dani Divine do have enhanced tits, even if the implants aren't very big. Why aren't they rolemodels for goth girls in such terms? Long term goth rolemodel Dita von Teese let her body be enhanced many times – and she is absolutely loved in the Gothic scene – why doesn't that rub off on some girls in the community? Is it only a matter of cash or is it about ideals?
Dita's body looks very natural while Starfucked and Dani Divine clearly go for the Bimbo look and I think that's the big difference. Her classic look – pale skin, her signature red lips and black hair – is very easy to copy even for beginners and it suits almost everyone. It looks classy while Bimbo girls often go for a provocative and aggressively sexy look which looks cheap to many people. There is also the common misconception that Burlesque is high-class whereas "regular" sex work or being open with your sexuality is somehow low-class. The fact that burlesque dancers were the porn stars of their time and then were seen as very provocative and even "cheap" is not well-known. The general plastic lifestyle, the whole "Barbie" hype and super girly outfits were something people loved more in the 90s and early 2000s and the preferred style nowadays is more natural. A lot of people don't go further into bimbofication because they just don't like the overall appearance and many keep their prejudices. I think this is more a question of personal taste and aesthetics and the Bimbo/ Gimbo style is a very special one I guess.
If you are interested in the topic of bimbofication and becoming a gimbo doll, and someone would take care of everything… would you do it? Would you think about getting some big enhanced tits in the process of getting a flawless, perfect body?
Not really. If I could I would maybe get implants and maybe a lifting on my breasts, but not as big as the majority of the women shown on your blog. I'd also get lip fillers to correct my natural lip shape but the (classic) bimbo lifestyle is nothing for me. Actually, I'd feel uncomfortable if someone wanted to pay so much money for me and the many rules and restrictions really frighten me. It comes off as a 24/7 BDSM relationship where one partner makes the rules and the other one following them and this is a bit much to me. I don't want to argue why I lie on my couch instead of training. I want to watch a movie, cuddling, without make up on instead of looking flawless every minute of the day (which is simply not possible since I have horrible skin lol). I have Aspergers and I am depressive, there is no way I could be motivated to follow strict rules every day in my life where I don't even understand every rule.
I am very positive towards surgery and I like certain aspects of being a bimbo/ gimbo girl but it's just not for me as a whole lifestyle. I leave it to the girls who are already on their journey and keep admiring them and their dedication instead. 🙂
Discuss this on the academy subreddit!
Support me on Patreon! Every donation helps!