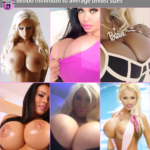 I'm sorry, I have to bring you another build up again as todays lesson, but this time, it's the build up for one of the most important topics concerning bimbos and bimbofication at all: Tits! I don't have to mention, why big tits are so important in the bimbo culture and play the most important role in the bimbofication lifestyle. Not only are tits one of the main female body features – and big tits in general – regarded as very sexy, attractive and feminine, but everyone hearing the word "bimbo", imagines a pretty, sexy, blonde girl with big, big tits. This is quite natural, looking at the bimbo culture, many girls participating have really big, enhanced, perfectly shaped boobs, which function as their trademark and are one of the main reasons they are so highly coveted and admired. Many queens in this scene, like Candy Charms, Amy Anderssen, Wendy Whoppers, Lolo Ferrari and many more, have set a high standard and function as role models for a whole new generation of bimbo trainees and girls who want to be at premium like these girls are. As I have already stated here, having not only big, but enhanced big tits, is a mandatory feature of a real bimbo doll and determines how a girl is seen in the eyes of the public and participants of the bimbo culture. Enhanced, silicone tits separate real bimbo dolls from boring, flat girls and make those dolls the girls of mens dreams. This build up has one message as a lesson to you bimbo trainee: Internalize the main, basic rule, "every bimbo has to have tits at least as big as the size of her own head!" – and the main question you have to ask yourself: "Are my tits big enough?" If your answer fits the basic rule and is a clear "YES!", quick like a shot from a gun, you have done everything right and may wait for the next lessons this build up prepares you for – but if you were hesitating or are not sure about your answer, you should take a look at the second picture above, where some beautiful, perfect shaped tits in the minimum and average section of the bimbo culture are shown and think about getting yourself an update… You should go bigger.
Discuss this on the academy subreddit!
Please support me on my patreon! Every donations helps me writing better and more posts! You can see this lesson in high resolution there!