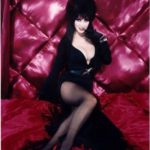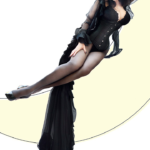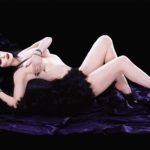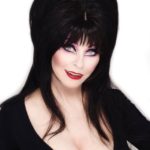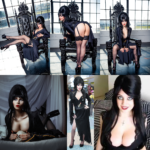 This time, we're having someone special as our new gimbo rolemodel. I said multiple times, I don't like the idea of mentioning fictional characters in terms of bimbofication (we are dealing with real life bimbofication here only!), but today I've got some reasons why I bring you one: Elvira Mistress of the Dark! Let us get this out of the way first:
Elvira is a similar rolemodel for the gothic subculture, as Marilyn Monroe is one for the bimbo culture, although she is "not real": Maybe both are not exactly what you would come up with, when you think about perfect bimbo and gimbo dolls, but they both laid parts of the foundation of what we would today consider perfect bimbo and gimbo dolls. Although Elvira herself is not a "real character", the impact she made on the gothic scene is very much real! That would still not be enough for me to approve her as someone to speak about in terms of real life bimbofication or rolemodels for goth girls, but not only are many aspects of her very noteworthy and provide some pretty good examples for goth girls, furthermore she might be much more real than you think – "Cassandra Peterson" with real name, and her alter ego Elvira are pretty much the same person all over:
"I figured out that Elvira is me when I was a teenager. She's a spastic girl. I just say what I feel and people seem to enjoy it." – Cassandra Peterson on Elvira
Of course, Elvira is a common character for cosplayers, girls on Halloween and goth girls in general, but so is Marilyn Monroe, and in the end there is only "the one Elvira", aka. Cassandra Peterson, who was more interested in horror-related stuff and gothic than in Barbie, when she was a young girl. The figure of Elvira is something she came up with on her own, completely independent from rulings of other persons – so it is very comprehensible not to speak of Evlira as "a role" she played, but more of her showbiz name. Cassandra (who worked as a go-go girl when she was young, a profession very suitable for bimbo- & gimbo girls!) used her alter ego throughout her whole life, and blurred the line between performing as an actress and expressing her own persona. She IS Elvira, and every other person performing that role is just a look-alike, cosplaying the famous horror-icone, just as many girls are cosplaying Marilyn Monroe today. Now let us have a look at Elvira: Mistress of the Dark, aka. Cassandra Peterson:
Elvira hosted a weekly horror movie presentation on KHJ-TV, "Elvira's Movie Macabre" soon becoming a cult-figure, before she starred in her own movie "Elvira Mistress of the Dark" – a flick I would very much recommend you to watch, no matter if you are a trainer, a bimbo, a gimbo or a trainee. Elvira makes use of many, many, different bimbo techniques, combining her "Valley girl attitude" (which is one of her substancial and knowingly adopted traits – VERY fitting and strongly related to bimbo girls) with the dark sex appeal of a true goth girl. Elvira uses her body to get what she wants from men – often, and frequently, anxious to always pose and move in an esthetically pleasing and tantalizing way – like every gimbo and bimbo girl should do it. Pay attention to her posing while she moderates her show, always showing off her long legs in the best way possible and pushing out her big tits, always pleasing the basic rules of bimbo behaviour and posing we already talked about so many times. It is her attitude and her way of posing which connects the spirits of bimbos and gothic in a very paradigmatic manner – something all goth girls and many bimbo dolls can and should learn from! Concerning her body and her appeal: Well, I mentioned her long, sexy legs – always swathed in stockings (although there sadly, there seem to be pantyhoses involved sometimes too, but this clip shows us very much what she's wearing under her dress) – like a good goth girl should do, and her (for naturals) mentionable big tits, to which she often gets reduced – something she clearly cultivates, mentiones and enjoys. Of course, yes, for a true gimbo rolemodel, she would need way, way bigger, enhanced silicone tits, but as I said, she does everything possible to enhance the appeal of her boobs, by always wearing a truly daring low-cut neckline or even sometimes some nipple-pasties, something very relevant to one of our last posts in the series about the perfect bimbo tits, sometimes corsets. Her legs are always supported by some sexy, high heeled, black, patent-leather pumps, respecting the rule of always wearing high heels, like her face is always covered in beautiful and strong goth-make up. Her figure-accentuating, revealing, tight, black dress with the low-neckline and the side-slit (showing even more of her ass and her legs) became a trademark for this long-haired, beautiful doll. She even experimented with dozens of different looks, like every bimbo doll should do, combining everything with a good portion of gothic-style, like wearing an apron, like a good, sexy gimbo-housewife would do, or wearing pigtails – something we also already talked about (somehow I got the feeling, that this…. strange video might have some appeal to some of my followers who are fans of the whole hypno-topic……).
You can see now, why this doll became such an icone for the gothic culture, and why so many girls give that look a try. The last picture above is a collection of different girls (like Hannah Minx or Larkin love), trying to represent the Elvira-look – proof of the impact she made and proof of the strong sexual potential this look has. In fact some girls in porn-industry try to assimilate her style, so it is no wonder you can find many goth girls there, going for that look. To all you goth girls out there: Be a little more like Elvira, let her attitude be a guiding light for you (did you ever see her wearing pants f.e.?) – this is something many bimbo dolls should do too! And if you are still looking for a piece of clothing that communicates your inner gimbo persona: Have a look at this 😉 – and maybe you should follow this tumblr, for more of the true Mistress of the Dark… this is it for now and on a final note… I wish you all unpleasant dreams.
Discuss this on the academy subreddit!
Support me on Patreon! Every donation helps!