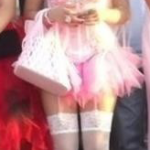 As promised, after a long time, here is our new stylecheck – something I told you would come in our last role model post about DJ Lady Tribe. Maybe it is no coincidence that I picked this picture of a little bimbo trainee in an outfit, we might have seen in different variants over the time on this blog (for example, the beforementioned rolemodel DJ Lady Tribe wore a similar style in the first picture of our rolemodel post, as well as this girl in a previous style check and this one too) and in the bimbo community. In fact, the general style of this outfit is so common in the bimbo community, we should examine and define it in a future "bimbo uniform" post and see why so many dolls in the scene end up with this particular appeal. Lets have a look and start with the outfit:
Many times we have seen this, a white/tender pink corsage, perfectly suitable for a bimbo doll, not only generating that well known bimbo color-code with white as the color of innocence and virginity (yes, the bimbo color theory post about "white" will come soon) and pink as the traditional color of and for bimbo girls, but also revealing the cleavage of a doll in the most visible way, perfectly suitable to show off some big, enhanced, silicone bimbo tits. The very short, pink tulle-skirt is also something we have seen in combination with this style and does not only respect the basic rule about the lengths of skirts for bimbos in combination with her cute and sexy, pink pumps, but supports the girly, feminine look because of its fluffy and bouffant appeal. This combination of a corsage with that short skirt and those pink, girly pumps is always suitable and a perfect choice for every bimbo doll! Another thing that (thankfully and fortunately) seems to be vital for this style is wearing some sexy, white stockings. The shortness of the skirt guarantees a perfect look on the lace garter of her stockings, which makes clear she does pay attention to the basic rule regarding pantyhoses and stockings and is an absolute attention drawer – everyone will look at her legs and her ass when she walks by! Additional praise goes out to that little doll, for choosing an expedient bag, matching the style and color of her outfit perfectly. Regarding the details: The corsage is crested with silver, sparkling ribbons, something I definitely approve of, because it supports the girly appeal and will draw even more attention. She wears additional jewelry, silver and glittering, which is good, but could be way flashier and showier. Her silver choker does look pretty nice, but I would prefer something that draws more attention to her tits, by hanging lower over her cleavage. Although it can't be clearly seen, she seems to wear some pink garter belt, which is fantastic, as long as she pays attention to the basic rule of "how to wear stockings correctly"! The little doll itself is a cute, sweet and sexy little bimbo trainee, without a doubt, but could use various enhancements: Her hair is platinum blonde, which is absolutely perfect, and it seems to be very, very long, something that approaches bimbo perfection regarding hair length and color – but there could have been some more styling to it, OR some girly accessories, like some pink bows in her hair, which would take up again the ribbons on her corsage. Her skin seems to be flawless and beautfully tanned, but she could use way more make up! Her body has a pretty good shape, but her tits are next to nothing! She absolutely needs to get some big enhanced tits, to complete her appeal and support her bimbo persona! At least paying attention to the basic rule about bimbo tits is the very least she should do! Apart from that: Very cute little bimbo trainee, with a rendition of a classic bimbo outfit, pretty well done and very sexy and suitable for bimbo dolls with minor flaws. Well done!
Please consider supporting me on Patreon! Thx for your help!
Discuss this on the academy subreddit!
There are many ways to support me! Please look into it!
If you know who she is, please let me know! EDIT: She seems to be from Bulgaria