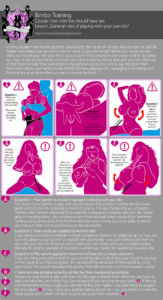 Perfect bimbo tits are something amazing to look at – of course! The sheer visual appeal of them is something that can drive men wild. We have talked about all importand and major aspects of getting perfect bimbo tits so far, and we covered many ways to enhance their appeal even more and let them look even better, by wrapping them in fitting outfits,  decorating them with fitting accessories and showcasing them with fitting postures and techniques. But perfect bimbo tits are way more than just eye-candy! If a bimbo knows how and when, she can drastically increase the sexual "value" of her tits, and make them a major factor in sexual intercourses. This can be achieved by "playing with your tits". There are many different things you can do, no matter if you are having sex with your trainer/master/partner, with several differen men, with other girls/bimbos (something we will talk about in the follow-up lesson!) or if you are just on your own. These different play-techniques will be covered in future lessons, today we will have a look at a general rule and when you should actually start playing with your tits, as well as at the benefits of playing with your tits.
The general rule is easy to understand: If you are in a sexual situation, no matter if you are alone, masturbating, or if you are being fucked by your partner or by many men – If you have at least one hand free – play with your tits! There are only three exceptions: 1. Your partner is already engaged in playing with your tits, 2. You need your hands somewhere else (because you need them to maintain a posture or position, because you are pleasing your partner or yourself (your pussy, or sucking/licking your fingers) with your hands or because you were told to do something else with them) and 3. The current appeal and/or movement of your tits is a major attraction at the moment. This is explained in detail in the lesson paper above – so let's talk about the benefits instead here:
You are leading the focus to your tits – Enhanced increase in pleasure – Direct visual feedback – An invitation to play – Assuring the slut-factor
We already talked many times about the importance of directing attention to your tits, with glances, clothes, movements and postures. There is no greater attention drawer than a girl engaged in playing with her own tits. There is no way, a man would avert his gaze or look away, because of multiple reasons, of which the weakest is simply the already mentioned motion you are creating, which is always attention drawing. But far more powerful are the messages you are creating by playing with your own tits: First and foremost, you are signaling strong, sexual arousal, a very, very strong factor – a factor no man can overlook and something men are genetically programed to react and respond to. A girl that signals receptiveness, by giving away several, little hints with her body language is already something men turn their attention to unconsciously – but there are very few things that showcase sexual arousal in a stronger manner than a girl who is massaging and kneading her own tits and licking her nipples. Every men is programed to react to this in an equally strong manner, which means that his sexual arousal rises to maximum levels in a very short time. A girl who does this, is very likely to not only be turned on, but to be on the fast lane to the next orgasm – which drives the instincts of every man crazy. Another reason is the "slut-factor": Teasing someone by showcasing yourself, playing with your tits, kneading and licking them, does not only proof that you are a confident and self-assured girl, that loves to be the center of attention and to be looked at, but it shows, that you are the absolute opposite of a "starfishing women"! Most men don't want to have sex with a frozen or dead body, a boring, inhibited drag or some slowcoach that seems so disinterested in sex that she barely even moves. Instead, most men want a real slut in their bed – a girl that doesn't only love to be perceived as a slut, but a girl that has fun in being one. By playing with your own tits, you showcase all this, a slut that likes to draw attention, that wants to be perceived as one, and a girl that showcases her ability to bring some action to the bedroom. In addition, your actions are a direct feedback of your sexual arousal: A girl that is engaged in playing with her own tits, showcases the amout of fun she has – something men love to see, because it is a direct confirmation for their actions and will most likely lead to further efforts to increase the amount of joy and pleasure you have. Positivity creates even more positive actions! Another reason, which is very grounded in the bimbo ideology, is the fact, that by playing with your big, enhanced tits, you are somewhat reducing yourself to your boobs, which is very welcomed in the bimbo culture. You are showing how proud and prideful you are of your tits, so much that you need to showcase them, and make them the focus point of the sexual intercourse – a big turn on for most men! By following these guidelines, you signal that you NEED your tits to be dealt with! You signal that you have a deep, inherent, sexual need for someone to play with your boobs – and if there is nobody to do this – you just do it yourself! Be focussed on your tits – So everybody else will be too! Likewise, playing with your tits, is a call to action for most men, an invitation to play: If you are massaging them, most men won't be able to resist to do the same. Invite your partner(s) to play with your tits – this will not only increase the amount of pleasure your partner(s) has/have, but also your own amount of joy and sexual arousal! Humans are bound to mimic what they see – so demonstrate how your tits should be treated – No-one will be able to resist! As I already mentioned: Do not miss an opportunity to play with your tits! No matter if you are alone or with dozens of sexual partners – play with your tits whenever possible (see paper above!)! You will not only get used to it, the amount of pleasure and fun will rise over time, you will see the benefits and sooner than later you won't ever want to miss it again!
Discuss this on the academy subreddit!
Support me on Patreon! Every donation helps! This lesson paper can be downloaded in hi res there!