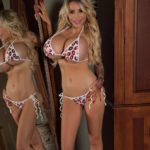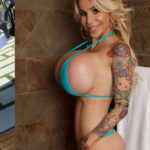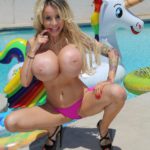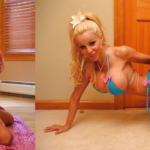 Maybe, some of you might already had some thoughts like "we've seen so many different bimbo rolemodels here, and some of them are indeed pretty famous, but what about Danielle Derek? She is a beautiful, true bimbo rolemodel! Why haven't we seen her yet?" – and you would be right, why didn't we talk about her? The answer to that is quite trivial: There is no special reason, it's just so, that there are SO many fantastic bimbo rolemodels I want to talk about, I didn't manage to cover her until now – which is a good thing – and I will tell you why: If I had written about todays rolemodel Danielle Derek before, we would have missed a recent change, that does not only qualify her as an illustrative example for our ongoing series about the perfect bimbo tits, but one that enhances her bimbo appeal MANY times over! Just about a month ago, Danielle enhanced her already fairly big tits (1900cc) to stunning 2600cc (!), which lets her satisfy the basic bimbo rule about the minimum size of tits with ease! Even before, Danielle represented an exemplary and wholesome bimbo doll, with her immaculate body shape, her flat belly, the long blonde hair, heavy make up, fantastic bimbo outfits and styles, a beautiful face, long, sexy legs and, of course, her general attitude, development and career. Her first breast enlargement was realized when she was 18 years old (800cc, C-cup), that was the same time when she started working as a stripper. Since then, Danielle had several, additional surgeries ( 2004 –  34DDD, 2006 – 1300cc, 34GGG, 2017 – 1900cc, 34HH – plus butt implants and other, additional enhancements) and started a remarkable career as an adult film star which made her world-celebrated and famous. Today, she is not only well known in the bimbo community because of her nearly flawless stylistic sense (high heels, stockings, dresses, make up, jewelry, colors, styles) – which would already be enough to present her as a rolemodel for many, many other bimbo girls, in conjunction with her already mentioned, pristine body, her beautiful face, the blonde hair and her talent, but also now for her stunning, nearly perfect bimbo boobs. This is why I am quite happy to have skipped her until now, because with the last upgrade she made, she has become a wonderful and perfect rolemodel for the current series about perfect bimbo tits. If you think about her first augmentation to a mere C-cup, by using 800cc implants, it is quite safe to assume, that she didn't had any noteworthy breasts before at all. This should be a wakening call to all those girls out there, with very small breasts and a reminder, that you can become a perfect bimbo doll with perfect tits, even if cruel nature didn't bless you in the first place. YOU ALL CAN DO IT! This stunning, amazing, sexy and beautiful doll, will now play a leading role in the bimbo community, amongst other girls like Candy Charms, Amy Anderssen and others, showing the way not only in terms of styling and general beauty, but also in terms of "how the tits of a bimbo should look".
Sadly, most of the new pictures of her show her in nothing more than a bikini, which is understandable, because she is definitely eager to showcase her new assets, but that means you can see her latest upgrade in all its glory (second to the last picture above), and the condition before, with some amazing bimbo outfits and styles (last picture above). Look at this amazing, beautiful and pristine doll – and tell me she isn't a perfect bimbo rolemodel, now even better than ever before!
Please remember, you can participate in the PBA survey and help me out to create a better site for all of you! Just take a few minutes to answer some questions!
I addition you can help me out by answering some additional questions!
The first results of the survey can be seen here!
Discuss this on the academy subreddit!
Support me on Patreon! Every donation helps!
There are many ways to support me! Please look into it!