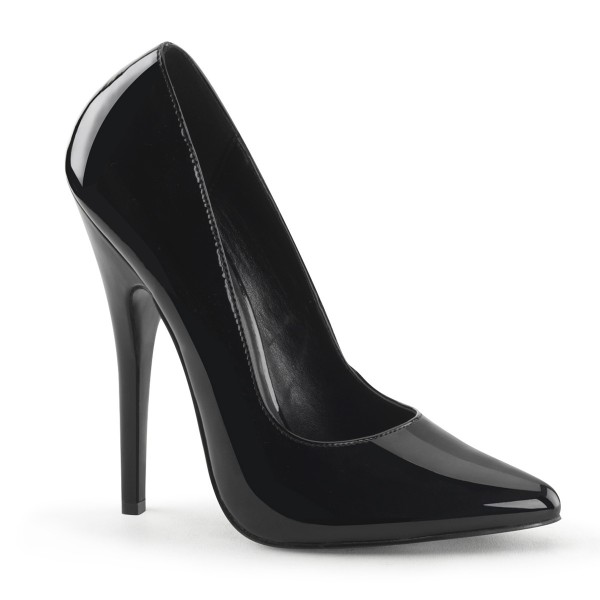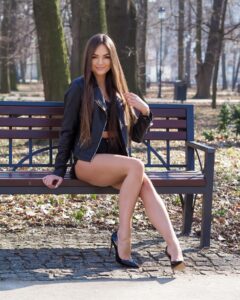 Before we start, I would like to ask you for a favor. Please, go to this Youtube-link and let the music play, while you are reading this. I will tell you why later on 🙂 Thank you very much.
Music running? Maybe set it to "loop". Okay? Let's go.
"Of all the shoes in the vast bimbo wardrobe, nothing is more versatile than the black, shiny stiletto pump. It's the world's most popular high heel. A shoe all women love. An elegantly simple 0,5 pound amalgamation of patent leather and synthetic materials. It doesn't clash with your wardrobe, your style or any color. It will fit whether you are at a funeral or at a club party. It's so universal, even normal women can wear it; and they do. The Pink Bimbo Academy put the shoe on its coat of arms. Marilyn Monroe started her carriere wearing it. Since the golden age, the black stiletto pump has become femininities greatest all-purpose fashion piece. After that comes "the little black dress", stockings, and push up bras. One thing is for sure, no man is lining up to buy them sneakers." – Pink 6:51, The PBA Bible of Bimbofication (Ode to the black stiletto pump)
Turn the music off now if you want (Although I dare you to overlook some Tchaikovsky greatness) 😉
You can regard this post as one of THE essential, most basic – but most important articles on the Pink Bimbo Academy, right next to the bimbo definition and the bimbofication definition articles.
This article is about a shoe. Is it about THE shoe for bimbos? THE most demanding but most symbolic and bimbo-aesthetics radiating shoe? THE shoe most bimbos do their photoshootings with? THE shoe most men want to see you wearing? THE most expensive shoe, created by the most gifted shoe designer ever? No – it is not. It is about the most simple, most plain and unpretentious shoe a (true) woman can wear. It is anything but fancy, nothing but about 250 – 300g of black patent leather and the absolute minimum of materials needed to craft a stiletto shoe. No fancy colors or decorations, no unique or unusual patterns or fittings, free in its classiness from any unnecessary trinkets. So why is this mere shoe so special, that it is considered to be one of the most important things a bimbo (or better: ANY woman) can possess? These shoes are what is left if you take away any unnecessary fuss: Fundamental, sleek, shiny elegance. This is the pure, untainted ESSENCE of elegance. The timeless, chic delight exuded by this work of art – sublime in its simplicity – adds a touch of glamour to ANY ensemble, no matter the color of the rest of your outfit, or the style, cut or the theme – these shoes will match ANY attire – as well as they are suitable for any occasion or location: From a wedding (only if you are not the bride) to a funeral – from a club party to a shopping trip, from a high society event over your first date, to the workplace of a street hooker. No matter if you are wearing them in the bedroom, in the church, in the ballroom of a king or queen, or while you are bringing the garbage out: These shoes will ALWAYS fit the occasion, the location and your style! There is no other shoe so versatile, so universal and always so fitting, like this one is. While being so simple, adaptable and multifaceted, these shoes grant you the benefits of everything that makes high heels such a mandatory and important asset for a bimbo: The sleek and slender stiletto heels elongate your legs, the pointed toes add grace and elegance to your feet, and your whole body is corrected into a feminine, beautiful and comely posture, while the glossy finish elevates your style and gives it that touch of glamour and sophistication every woman needs. That is why.
A wise man once said: "Style is what is left when you take everything away that isn't absolutely necessary." – a principle that usually is not very compatible with bimbofication ideals, but in this case, it absolutely does apply. Many of the must have bimbo shoes we talked about before (and many more to come – you will never again see something as simple as these), had some sort of "special gimmick" – something that makes them very unique and powerful regarding the visual language they speak, which aspect of the bimbo persona they support and "which kind of story" they tell to an observer and the bimbo that wears them. There is always a reason why I present you a special type of item, piece or, in this case, shoe – a reason why I consider this and that to be a bimbo must have. These shoes are the absolute absence of all of this. But this "nothing" is not "nothing". But before we come to that, let us have a look at what we are dealing with, following the PBA guideline for bimbo suitable shoes: The shoe we are talking about today, is not a unique, special shoe – not from a certain brand or a special designer – it is a "type of shoe" that is produced by many different manufacturers and available from many different brands. It is, however, very clearly defined: The classic black stiletto pump, is a pump-style shoe, with no platform/plateau whatsoever, pointy toe box, no straps at all and a stiletto heel with a height of something between 10 – 16cm (whereby 12cm are ideal for its purpose), made of black, shiny patent leather with a glossy finish. Perfect examples for this type of shoe are the Louboutin SoKate in black, the Louboutin Pigalle in black or (much, MUCH cheaper) the Devious Domina-420 in black. Like I already stated: Brand and Designer aren't really important here, as long as we are talking about the exact design described and showcased above, and as long as you are comfortable in walking in these shoes. This is far more important in this special case, then in any other we already discussed (remember when we talked about the amazing Devious Domina-108? Yes, these shoes have the ultimate bimbo appeal, but they are not very practical – which should never be an argument against a bimbo suitable item, but it would be unrealistic not to consider the limited usability for long term use or day-to-day practicability), and I will tell you why:
If you have ever seen the movie "Lord of War" with Nicolas Cage, there is a brilliantly framed scene in which Nick Cage (playing an arms dealer, who manages to acquire large chunks of Soviet weapons directly from the red army, shortly after the fall of the USSR – from simple hand guns to T-72 main battle tanks) sits in an empty hangar with the "most profitable piece of equipment in the huge arsenal of the red army": The AK-47, more commonly known as Kalashnikov. Accompanied by some nicely arranged close up shots of the rifle and the effecive use of Swanlake as musical background, Cage reflects on the virtues and the beauty of the weapon. This scene has gained some internet fame, usually called the "Ode to the Kalashnikov", and describes the "inherent beauty" of the rifle:
"Of all the weapons in the vast Soviet arsenal, nothing was more profitable than Avtomat Kalashnikova model of 1947, more commonly known as the AK-47, or Kalashnikov. It's the world's most popular assault rifle. A weapon all fighters love. An elegantly simple 9 pound amalgamation of forged steel and plywood. It doesn't break, jam, or overheat. It will shoot whether it's covered in mud or filled with sand. It's so easy, even a child can use it; and they do. The Soviets put the gun on a coin. Mozambique put it on their flag. Since the end of the Cold War, the Kalashnikov has become the Russian people's greatest export. After that comes vodka, caviar, and suicidal novelists. One thing is for sure, no one was lining up to buy their cars."
So now you see why I asked you to play that music and where my initial quote comes from. In case you don't get the similarities of these very different items and why this whole scene is so fitting for todays bimbo must-have: The object Cage is talking about is not beautiful because it is fancy or pretentious. It's neither the most sophisticated or special weapon there is – but it is reliable, easy to use, works in any situation under any circumstance and does the job. You already guessed where I am going with this, right? Yes: The black stiletto pumps ARE the AK-47 of a woman. This is why this shoe is not "the most bimboesque" item in your wardrobe, the piece with the most sex appeal, but it should very much be the first shoe you buy after your first training heels and after you managed to make your first secure steps. In fact, these shoes are so goddamn important, every single girl on the planet (not just bimbos) should get her first pair when she turns into an adult by law. At all times, every woman has to have a pair of these in her possession. If they break – get new ones immediately! Does this mean a bimbo should wear these as often as possible? No! Absolutely not! If you asked this question, you didn't really understand the concept: Of course there are many, many, many shoes a bimbo should prefer when she decides what to wear, but all of these other shoes and bimbo must-haves are directly connected to a certain message they transport and limited by the outfits and colors they can go along with. We will have another bimbo color theory article soon, talking about contrast and complementary colors – but as you know, you can't just combine any high heels with any outfit and any color. Some things don't match and don't result in a bimbo suitable or at least aesthetically pleasing appeal. These shoes are different. They match EVERYTHING! So – if you don't have a special style in mind that is supported by any other shoe, if you don't know with what shoe you should combine your outfit, if you are unsure about the occasion or the event you are going to attend: PICK THESE. You literally can never go wrong with these. If in doubt -> Black, patent leather stiletto pumps.
Because of these attributes, you will wear these shoes A LOT (if you are actually a true woman or bimbo). This means they have to provide you some comfort and security. This is the reason, why the acceptable heel height of these shoes lies between 10 – 16cm, depending on your skills. You have to be able to wear them on long shopping trips, in the bedroom or on a night out with the girls, in case you were in a hurry and couldn't decide which other shoes would better match your style. Don't forget to replace the plastic heel tips with bimbo suitable, metal heel tips! No matter if you are a gimbo (remember, these are the shoes Elvira is wearing), a bimbo – or just a normal woman – THESE shoes are your AK-47, your Kalashnikov – the all-purpose weapon you make use of to drive every man crazy and get the necessary elegance to be uplifted as a female above all the others. If nothing else goes – these shoes will do. Hell, you could even be naked and just wear these heels and you would look like a goddess. What more can you ask for?
There was no way we could continue with our ongoing "Bimbo High Heels series", without talking about these shoes, so let's wrap this "Ode to the black, glossy stiletto pump" up: If you don't have a pair already – get one NOW! Simple as that. Thank me later – this fallback solution will always be like "I got you, sister!", when you don't know what to wear – and that's what makes them so powerful. Just make sure you stick to the exact design I described and showcased above, from the slightly pointed toebox, over the thin and sexy stiletto heel, to the swift and elegant "seat" where the heel meets the sole – THIS is what you need. I hope I managed to get my point across, managed to describe the simple beauty and the astonishing appeal of this piece in a way that is understandable. If so – you should now look at these simple shoes with different eyes. Yes – that is what they deserve and that is why every bimbo needs them.