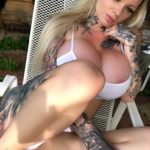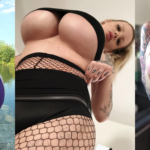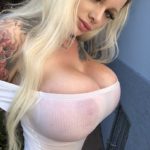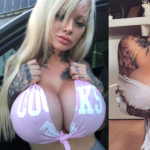 We reached some kind of a crucial point now guys! The last spotlights we had, were about amazing bimbo trainees, either at the beginning of their transformation, or in early stages – but this time we are going to have a little chat with a full blown superstar of the bimbo culture! Kelly Pearl is on everyone's lips for quite a while now. She came out of nowhere, and became a bimbo star practically over night! There was no way around her on the common, bimbo related, social media channels (twitter, reddit, tumblr) – with her pictures spammed continuously for weeks. By now she is already famous, and I am absolutely honored that she agreed to answer some of my questions! In the PBA survey (you can still participate!), many of you asked me to talk more often to newcomer bimbo stars, so here it is, our next spotlight interview with bimbo rolemodel Kelly Pearl:
Hi Kelly, before we come to the first questions, would you mind introducing yourself to the community, though I'm very sure most of my followers and the people in the bimbofication scene do already know your name and your pictures, which have already become kind of famous?
I wish you all have a wonderful day! Of course I can introduce myself: My name is Kelly and I hope I can interest you in following my journey. I currently live in Germany and just love everything that is big and artificial 😉
Alright, let's start. Like I said, and I'm pretty confident that you noticed this by yourself, you have become a star in the bimbofication community – practically over night. Every bimbo place online features your pictures, you see them on twitter, reddit and tumblr all the time, and everybody praises your name. So – first question: When exactly did you go public and did you ever expect to gain such fame is such a short amount of time?
I created my first Instagram account last year in July, but did not really have an idea about Instagram's policies, so it was suspended in October – until today. After a break, I started again this year in the middle of April. Honestly, I have to say, I've always wondered where those massive amounts of new followers came from, because I was rather inactive in recent times … so I would like to thank those who have supported me so much and still continue to support all the more.
I never even thought to attract attention on Instagram and so on, let alone being hyped that way.
As far as I know, you weren't so familiar with the term bimbofication before, or didn't really consider yourself a bimbo. What do you think about the attention you get from this community?
I'm very surprised myself. I hope nobody is miffed about me, not coming clean with it earlier, but I planned to fulfill my wishes for the remaining surgeries (for the time being) this year first, before coming out and dealing with the topic – but on the other hand, maybe many of you see where my journey is leading me already? I am very grateful for that.
…And what do you think of bimbofication?
I love everything "artificial-looking" – I've always been like that before. Until I started using Instagram, the term was rather unknown to me – today, I think it's a decision for life – at least when it comes to the visual appeal 😉
So, when and how did you decide to become such a fantastic, beautiful doll? Was there some kind of initial condition, a special moment for you? Why and how did you decide to go for that look?
Thank you :), I always had a precise idea of how I would like to look like. But I was always a bit afraid of the surgeries, but that's gone by now.
Were you always a girl that emphasized being feminine, attractive and sexy? How did that evolve?
I did not always had the opportunity to do so, as I lived quite a "normal" life until a few years ago. I never really wanted that, and I really wanted to change. I've always liked the "Barbie" look and have been focusing on it for quite a bit of my life.
Let's get to the raw facts: What did you already do to enhance your body? What surgeries did you already have and what else did you do to optimize and perfect everything? Beauty enhancements, surgeries, work outs, etc.? What are you going to do next? Are the plans to perfect your body even further?
I got my breasts done twice. From 830 to 1600 cc. Several times lip-injections with different fillers and a Brazilian butt-lift. I try to do something for my back on a regular basis and go out a lot with my two dogs – this is also real training 😀 – but soon, hopefully, I will have a personal trainer. What else do I do: Hairdresser visits, extensions, manicures and pedicures and getting massages, three times a month. My next interventions will be a laser facelift, a rhinoplasty, an eyelid blepharoplasty (I'm not a friend of injections in the area of the eyes, so rather permanent), maybe a second Brazilian butt-lift and definitely butt implants. What comes next … let's see, as far as I'm concerned about my breasts – they will be over 2000cc with an internal bra in the future.
What are your goals? How can we imagine the "perfect Kelly Pearl", when she is done with the work of perfectioning herself?
I do not take anyone as a role model, because I want to realize my own ideas. I do not want to give too much away, but at the beginning of next year, you will be able to guess what goals I striving for.
When you reached your goals, what do you expect your life to be? Are there other things you want to achieve, things you want to gain or experience? A life in glamour and luxury perhaps?
You probably won't notice it by looking at me, but I do not want glamor or luxury at all – of course it's nice to be able to treat oneself to some nice things every now and then, but that should never become the main content in ones life. Being able to do what you love and to achieve your goals is what I'm looking forward to.
Since you modified yourself, and achieved such a beautiful and stunning body, such beauty, what did change? Did you notice men and/or women acting differently towards you?
Yes, definitely! But not always in a positive way. It's funny that actually only women react "negatively" to it … but of course, people notice that I stand out, but I can completely ignore that and I also know, that many people find such a look provocative. But in general, I am always warmly welcomed everywhere 😀
You are from Germany. Would you agree that bimbofication in general and body-modifications that make girls more feminine, attractive and sexy are negatively connoted here? We don't see a lot of advanced, German bimbo dolls, sadly.
I can absolutely agree! It's too bad! How nice would it be if there were many more of us girls like that? But it's really extremely expensive to develop in this way…
What about your female friends? Do you know any other bimbo-like girls, or girls who would like to make the same changes and go down this road? Do you have a "Best Bimbo Friend"?
Sure, I got to know an amazing girl through Instagram! "Tiffy Hollywood" / "Lillyfee squirt" (both her)! She gets her breasts enlarged again this year and we all hope she gets over 1100cc 🙂 Butt-implants are also on her list. We are so similar in so many ways… and you will definitely see us together more often next year 😉
Would you encourage any girl that expresses her will to become a bimbo doll? What helpful hints would you give a girl at the very beginning of her bimbofication?
The best tip that I can give everyone, is to always think carefully to which doctor you go! Not everyone can do everything and not everything that is cheap is a wise choice!
Although bimbofication is kind of hushed up here in Germany, there are still some pretty famous girls out there, for example, Sophia Vegas (ex Wollersheim), Vanity Porn (aka. Barbie Brilliant), Candy Plastique or ex pornstars like Annina Ucatis or more toned down bimbos like Katja Krasavice, what do you think about those German bimbo dolls?
I hope noone will take offense with me saying this, but I really did not care too much about the lives of others, at least not enough to be able to make a correct statement – I don't even know some of these girls. Objectively, in any case, they are all very beautiful women who embody exactly the ideals we are talking about.
What about international bimbo dolls, especially the very well known queens and goddesses of the bimbo culture, like Candy Charms, Sarah Marie Summer, Amy Anderssen, Essexbunny, KissApril, etc.? What do you think about those? Do you have a special rolemodel or girls you really admire?
Definitely pioneers for all bimbo goals!! I really have no role model myself. I would like to transform myself into my own rolemodel 🙂 – and I already have precise ideas – maybe some of you too?
Coming to the bimbo style, what are your favorite styles, clothes, etc.? Do you prefer to dress sexy, feminine and appealing? What about make up?
I pay attention to my appearance big time. Caring and styling are part of my daily routine. Preferably and always, I like to dress in short, revealing skirts and dresses, showing a lot of skin – I just love the "doll look" ❤️
Are there possibilities for our readers, bimbo lovers, followers and your fans to support you or even help you out regarding your further transformation? Is it possible to donate? How can we support you?
First of all, I really want to thank all of you – thank you to each and every one of you who supported me so much and to everyone who will continue to support me! I would be very happy if you would take part in my journey 🙂 – Soon there will be a Patreon page of mine, maybe even only fans. If you want to support me in my goals, you can experience my career closely and possibly have some influence on it.
(Annotation of the PBA: I will inform you, once she created her Patreon and Onlyfans pages! I really would like to encourage everybody to support this amazing, kind, lovely and sexy doll!)
Can we expect some more pictures of you? Maybe even professional photo shootings?
Absolutely! In any case, I would like to work with a permanent photographer in the near future, so that there will be always new pictures of me. I had a lot of stress this year, which is why I couldn't deal with this until now.
Now some general questions:
How does your perfect partner look like? What has a man got to offer you, to be like or how does he have to look in order to impress you, win your heart, or just get the possibility to go on a date with you?
Definitely, he must be able to make me laugh, and to make me feel like his number one. If he is able to deal with me and control me, I will become his "little girl" instantly 😉
How important is sex for you? Is there something naughty you are enjoying especially?
Very important! But it's not only sex – I want to play… just "in and out" does not work for me. I love everything that has to do with ddlg ("Daddy Dom / Little Girl") – and I do not only play, I love and live it ❤️
Would you hop in bed with another girl? What would she have to be like? Would you enjoy another bimbo girl to have fun with?
Without hesitation YES! I'm already on board! And there are already some offerings…
What was your most naughty, forbidden or wicked but hot experience?
I already had a lot of experiences like that! One of them was on a motorway service area, on the picnic table – it just happened. It baffled me how obedient one can become whe the right buttons are pushed 😉 – and a few truck drivers had a beautiful sight 😀
What is your favorite color?
Movie?
"Supersize me".
Band?
Linkin Park, Stone Sour, The Weekend (before he became famous) and Xxtentacion.
Meal?
PIZZA!
and actor/actress?
Anthony Hopkins
So, thank you very, very much Kelly, that you took the time to answer these questions. It is an honor for me. I am very sure you will be amongst the biggest stars of the bimbo-community and I hope everything will come up exactly like you planed it and wish for. Is there something else you want the community to know?
Thank you very much ❤️ I still can`t believe everything that currently happens and I hope you continue to support me as much as ever – I'm just starting with my journey to reach my personal goals and I'm really looking forward to all of you accompanying me! Thank you for your support and patience, feel kissed, love you all, yours – Kelly
Thank you very much! Cya soon 🙂
Once she created her Patreon and Onlyfans sites – those will be linked here too!
Please remember, you can participate in the PBA survey and help me out to create a better site for all of you! Just take a few minutes to answer some questions!
I addition you can help me out by answering some additional questions!
The first results of the survey can be seen here!
Discuss this on the academy subreddit!
Support me on Patreon! Every donation helps!
There are many ways to support me! Please look into it!