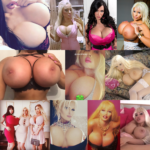 This is the 6000 Followers special I asked you to decide what topic it should be about – so, welcome to our new multiple parts series: The Pink Bimbo Academy Guide to the Perfect Bimbo Tits! Many of you guys wanted to learn about bimbos and high heels, but there were a few more votes for a series about tits, so here we are. The high heels topic will be next, but first we have to work through quite a stack of different parts. Because this topic is even more complex than our last series about Best Bimbo Friends, there will be a lot more parts. The summary of the whole thing looks like this:
Overview
1. The perfect bimbo tits – Introduction & overview
2. The basic elements, concerning the tits of a bimbo  (The basic rule)
3. Natural & enhanced – the necessity of "plastic"
Implants
4. Types of implants (saline, silicone, strings, filler, internal bra, fat)
5. Types of accommodation (over the muscle, under the muscle, scars)
6. Types and sizes (tear, bulge, round, natural, 50cc – >1050cc, textured & smooth)
7. Summary of implants
Lessons
8. Procedures to increase the size and state of tits in a natural way
9. Workout and training to get the tits of a bimbo into shape
10. Nutrition and supplements to support the tits of a bimbo
11. Induced lactation
12. Bimbo postures and movements: Showcasing your tits – Squeezing and pushing up
13. Bimbo postures and movements: Showcasing your tits – Pushing your tits out
14. How a bimbo should have sex: Play with your own tits
15. How a bimbo should have sex: Care about the tits of a second bimbo
Items
16. Wearing tops and bras one size smaller
17. Push ups
18. Pasties
19. Bras (shelf, balcony, neckholder, front opener)
20. Nipple piercings
21. Increasing size with optical illusions (make up)
Appendix
22. Support bimbos in getting bigger & better tits
23. How to get bigger & better tits
24. Appendix & Conclusion
You see, this is quite a lot we have to go through. Every post will feature some examples and/or rolemodels depending on the topic the article is about, and of course our "in-depth-analysis". Let's start with a quick introduction:
1. The perfect bimbo tits – introduction
The tits of a bimbo are her most striking and her most noticeable trademark. We already talked about this in our post about the basic rule regarding the tits of a bimbo. In most cases, the sheer size of her tits are the most noticeable difference between her and boring, "normal girls",
apart from
the dozens of minor and other differences which make the bimbo doll a true queen and those normal girls clumsy and ungraceful hick girls. But the tits of a bimbo are not only there to distinguish between a princess and a wallflower, they do fulfill many other purposes: Tits are one of the main sexual differences between men and women, even if they are called "secondary sexual attributes". Most men do love tits, and most of them like them big:
"Men's fascination with breasts is also due to the visible dominance of
breasts. The other sex organs are more hidden and less accessible. I
guarantee that if men's penises were as highly visible as our breasts,
protruding blatantly out of their pants, women would be just as
fascinated with them as men are with breasts. I also believe that men
are more attracted to women with big breasts because they feel less
threatened by them mentally. Large breasted women are often categorized
by men as dumb, and they are often visualized as easy to seduce and more
sexual in bed than small breasted women. Breasts therefore become the
barometer for sexuality. Having large breasts implies that a woman is
more sexual. Men who date women with large breasts thus become more
sexual by default."  (
Dr. Ava Cadell
– Tongue Magazine, Why Men Are Fascinated with Big Breasts, 2002 )
And many like them really big! In fact, the bigger, the better! This is an idea only the very fewest dare to admit. Todays social pressure prevents most men from admitting their love to huge fake tits and doesn't allow them to openly speak about their preference – especially to their female partners or even in public to other fellow men. I get many, many, many messages from different men, all over the world, who would never dare to speak to their girlfriend or wife about their bimbo fetish and even have to fear a social backlash if their preferences would be revealed. But this doesn't change the simple fact, that bimbos with big tits are a dream that came true for many men out there – a sexual sensation and a rendition of "the perfect girl" many boys fantazise about. Big boobs are feminine! The bigger the tits of a girl, the greater her femininity – and because being a bimbo is all about being as feminine as possible, it is no wonder, that having big tits is a must for every doll participating in this culture. In addition – having big, fake tits is somewhat a statement: Not only does the girl increase her femininity and sexual appeal by enhancing her female secondary attributes, she makes a clear statement about the importance of her breasts and that she does want to be defined by those enhanced body aspects –
at least partially (We will take a closer look at this in part 3!). Said girl did underwent  an expensive and effortful surgical procedure, just to increase her level of attractiveness and the amount of attention she gets from men and persons of sexual interest. That sexual interest is another big part of being a bimbo: When a man sees big, fake tits – he isn't simply able to think of someting else than sex! This effect plays a big role in living the life of a true bimbo doll: You have to cause this effect constantly! At least, this lies in the very nature of a bimbo doll: Being a constant, feminine, sexy temptation. But perfect bimbo tits don't have just to be big. They have to be in a perfect shape and condition. In this series, we will discover many different options and techniques to get to where we want to be: The perfect bimbo tits.
We already covered many different bimbo rolemodels who are notorious and famous for having nearly perfect tits and therefore are considered as the leading bimbo rolemodels. Have a look at those girls we already spoke about (many more will follow in this series!):
Lisa Lipps,
Amy Anderssen, EssexBunny, Wendy Whoppers,
Vanity Porn (Barbie Brilliant), Aysha Soper (ASX), Candy Charms, Lolo Ferrari, Sophia Vegas and KissApril.
Part II –
The basic elements, concerning the tits of a bimbo
(The basic rule) >>>
Discuss this on the academy subreddit!
Support me on Patreon! Every donation helps!