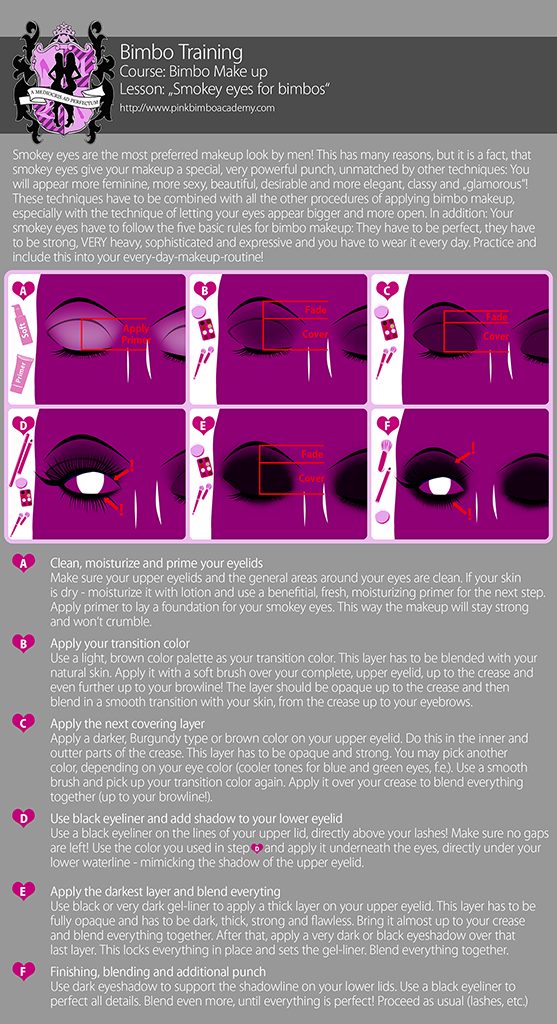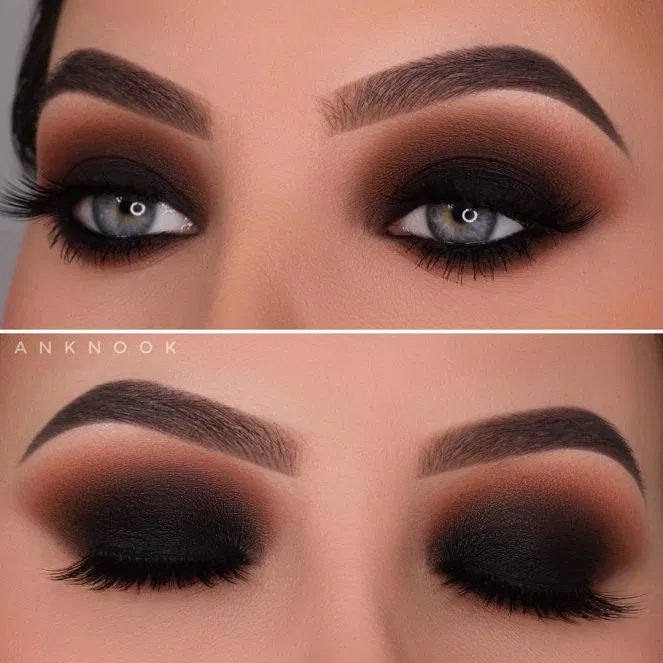 Articles you should read before this one:
The PBA Guide to Bimbo Makeup – 6. Bigger and brighter eyes with make up
The PBA Guide to Bimbo Makeup – 1. Introduction to bimbo makeup theory
The PBA Guide to Bimbo Makeup – 2. The 5 basic rules for bimbo make up
In the last part of our ongoing PBA bimbo makeup series, we talked about the importance of "big, open eyes" for bimbos, why those appear way more feminine, sexy and beautiful and with that – why every bimbo should always include the necessary makeup procedures to let her eyes appear as big and open as possible into her daily makeup routine. This article will directly connect to the last one – and will add another, additional step to increase the visual appeal of your eyes even more – another step every bimbo should also include into her daily makeup routine: We are talking about "Smokey eyes"!
Smokey eyes are by far the most preferred part of a "complete make up look" by men and give your whole visual appeal a true punch, lifting it up to a completely different level! This is why makeup artist Mark Carrasquillo got accused of "making models look oversexed" – just because of his special, heavy smokey eyes technique! This should tell you how powerful and mighty this look is and what can be achieved by doing it the right way. Sadly, exactly this power is the reason, why most "normal females" would never incorporate smokey eyes into their daily makeup (especially German girls!), because they think of it as "too sexy" and to "eye-catching" for normal days. Of course, these stupid concerns are not valid for a bimbo! A true bimbo doll, follows the 5 basic rules for bimbo makeup and ALWAYS goes for a strong, heavy and eye-catching makeup, ALWAYS aiming at such an "oversexed" and attention-drawing style! But apart from simply looking interesting, sexy, feminine and beautiful and more elegant, classy and glamorous – why is it that this special look has such enormous powers? There are a couple of reasons for this:
1. A true, scientific reason is, that women tend to be darker around their eyes than men. Studies conducted by Dr. Richard Russen, an assistant Professor of Psychology at Gettysburg College, have demonstarted that the darker your eyes are in relation to your skin tone, the more attractive you appear, while the opposite is true for men. This lets us conclude one simple thing: Playing up the contrast will absolutely make you appear more feminine! This is a very welcomed effect for every bimbo doll, because THE most important goal of bimbofication is to appear as feminine as possible and to achieve "hyper femininity"! By looking more feminine, you will simultaneously be more desirable, more interesting, more sexy and more beautiful. This alone is already reason enough for every bimbo to make use of this look each and every day!
2. Your eyes will appear bigger and more open! Yes – we already talked about this in our last article, but it is true: Smokey eyes do support this effect! If you are interested in why big, open eyes are so important and why it is desirable for every female to let her eyes appear as big as possible, I strongly advise you to read about the reasons for this in the beforementioned article again! However, smokey eyes add contrast to your face. The whites of the eyes pop and seem to "flash" from the dark areas where you applied makeup. Contrast is always an eyecatcher – and this leads the focus directly to your eyes. This is one more reason, why you should ALWAYS combine both makeup techniques, the one about smokey eyes we are talking about today and the techniques to let your eyes appear bigger! The effects will add up and create an extremely powerful, feminine, sexy, beautiful and irresistible visual appeal!
3. It is one of the oldest, feminine traditions of applying makeup. The smokey eyes look is derivative of the traditionally applied kohl eye makeup used by various cultures around the world for thousands of years (we have already talked about this in our bimbo makeup introduction, and the history of makeup!). This is way is has become such a strong feminine, cultural property. As a bimbo it is your duty to honor these female traditions – and all around the world, everywhere this look is known for its femininity, its sexappeal and its beauty, which is just one more reason for every bimbo to adapt to this every day.
Follow the paper above and practice this every day!
Combine these techniques with the techniques to let your eyes appear as big and open as possible! A true bimbo ALWAYS makes use of both techniques and combines them!
Include these techniques in your daily makeup routine! Remember: The vast majority of men want girls to wear heavy makeup EVERY SINGLE day! (Following the 5 basic rules of bimbo makeup!)
Remember: Your smokey eyes look has to be HEAVY. Following the 5 basic rules for bimbo makeup, there is no place for "moderate" smokey eyes! It ALWAYS has to be strong, expressive and heavy!
Leading the focus to your eyes doesn't mean other parts of your face should get less makeup! Remember the 5 basic rules of bimbo makeup: Your look has to be complete! Even professional makeup artist Mark Carrasquillo doesn't believe in the stupid "you shouldn't wear a strong eye with a strong lip"-rule!!! These rules are for boring, ugly "normal girls"! A bimbo ALWAYS tries to emphasize EVERY aspect of her body (with makeup)!
Need a famous bimbo rolemodel who makes use of this all the time? Look no further: Bimbo queen Aletta Ocean is a true mistress of smokey eyes and often showcases how powerful and strong this can look, when done right – and Aletta does it perfectly! In addition, here are some pretty good "basic video tutorials" for "classic smokey eyes":
Classic Black Smokey Eye Tutorial by mayratouchofglam
Classic Black Smokey Eye Tutorial by An Knook
Discuss this on the academy subreddit!
Please support me on my patreon! Every donations helps me writing better and more posts! You can see this lesson in high resolution there!
Support me by donating in different crypto currencies, or visit my shop!