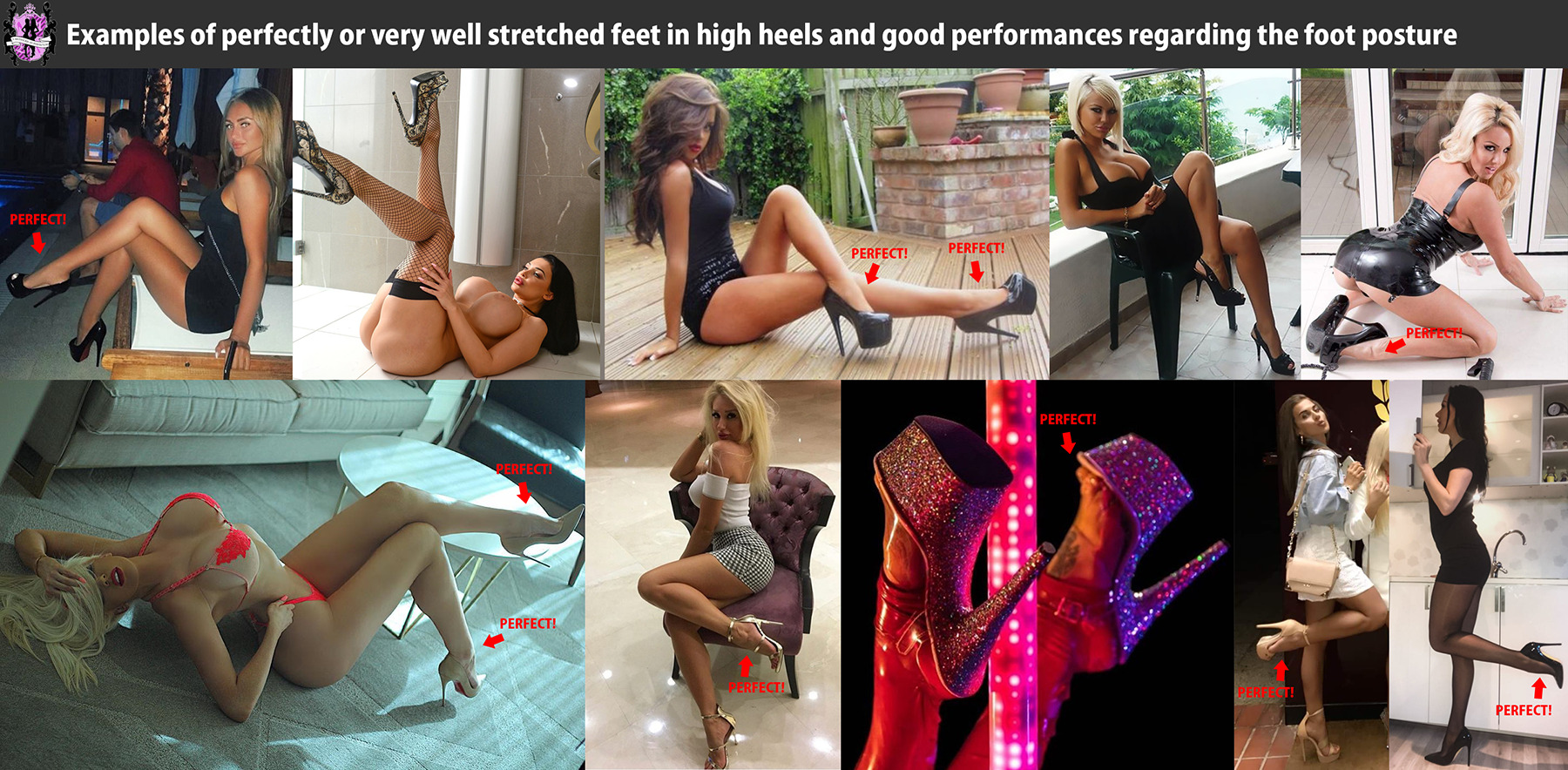 As a good bimbo trainee that practices all the PBA lessons constantly and follows the rules all the time, you won't have any problems to incorporate todays lesson into your daily life, because you should already be performing the necessary posture in nearly every given situation – because you DO follow the PBA rules and practice the lessons, don't you? No matter if you are sitting, standing, kicking, having sex, kissing and so on, and so on, I always asked you to do one thing: Keep your feet in your high heels stretched and pushed through! You do wear high heels all the time, don't you? Like… never flat shoes – like how it should be? And you never put them off, like we stated before? And you do only wear bimbo suitable heels? Good… what a good bimbo (trainee) you are. Otherwise I would question your dedication and your bimbo (trainee) designation overall… But for you it isn't just some game – or roleplaying. You are serious about bimbofication and you know how important these things are. So everything is fine and we can continue. Like I said, following todays lesson should only be a "pro forma" act for you, because you know the necessary technique for that in and out, and because you always follow the lessons, your feet are very accustomed to the posture I am now asking you to perform ALL THE TIME:
Bimbo training – "How a bimbo should have sex: The fundamental foot posture"
Bimbo training – How a bimbo should stand: "The basic standing posture"
Bimbo training – "How a bimbo should sit: Crossing legs"
Bimbo training – "Bimbo postures and movements: How to bend over and pick something up"
Bimbo training – "How a bimbo should walk: Basics of walking"
Bimbo training – How a bimbo should sit: "Crossing legs & switching legs"
Bimbo training – "How a bimbo should have sex: Raising a leg while kissing (standing)"
Bimbo training – "How a bimbo should walk: Refining your walk and the stripper kick"
Bimbo training – "How a bimbo should have sex: The correct way of sticking your ass out while on all fours (and the correct back posture)"
Bimbo training – How a bimbo should stand: "The pigeon-toed stance"
You see? There was a reason why I asked you to perform these things step by step, over years, and why I asked you to practice regularly and often – and why I asked you to start with this posture only in certain situations at first. Because now, you are accustomed to this and won't have any difficulty to make the next mandatory step: Do not only do it in the beforementioned situations – do it ALL the time! That way, your legs visually appear MUCH longer, because your feet become just a visual continuation of your legs and by that, become visually tinier, smaller and more petite themselves. And we already talked about the importance of both factors multiple times before. In addition, this makes sure you showcase your high heels always in the best way possible, as well as your legs. Remember: The high heels, the feet and the legs of a bimbo are one inseparable unit (which is one reason why you are NEVER allowed to put them off!) – and every part of this unit is there to let the rest appear as perfect as possible. Showcasing the sex appeal of your heels is mandatory, and we already discussed why these shoes have such a huge impact on men and why they have such a huge symbolic value! By stretching your feet and let them be pushed through you make sure all these goals are achieved, and your legs, feet and heels look the best they can! This lesson is, of course, connected to the PBA series about high heels, because there is simply no better way to showcase those heels like we discussed in the paper, but it is also a build up for another rule we will soon talk about: A bimbo ALWAYS strikes a pose – or poses in a general way. A bimbo NEVER "just casually stands/sits/lies/walks there"! One MAJOR part of professional posing is to stretch your feet and push them through – something every professional model can tell you. And there are reasons for that – namely the ones we already discussed. A bimbo doesn't do this "only in front of a camera" – a bimbo does it ALL THE TIME – so this is the base for every further step regarding this upcoming rule. So what are you waiting for? Practice this! Keep it in mind! And always do it!
A note for bimbo trainers: I advise you to check your trainees constantly regarding this! Most trainees tend to be lazy and careless with this very important detail. Do not let them get away with this! INSIST on her respectin the rules – including this one!
Please support me on my patreon! Every donations helps me writing better and more posts! You can download these papers in HI RES there!
Discuss this on the academy subreddit!
There are many ways to support me! Please look into it!