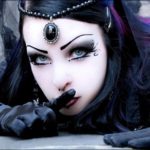 <<< Go to part 1 – Introduction.
Welcome to the second part of our series "goth girls about bimbos"! After the introduction, our guest-writer and interview-partner is now going to talk about some general ideas regarding the concept of bimbofication for gothic girls – the "gimbo idea", if you will. I think many of you guys will find this VERY interesting, and I have to thank Mimi again for her honesty and the effort she made: Thank you very much! So, let's dive right in:
There were many, many different aspects in the female gothic culture from the very beginning, which would be deemed very, very sexy and very attention grabbing – like the extensive use of visibly worn lace stockings and garter belts, fetish accessories, high, black stiletto boots, corsets, the use of heavy make up, patent leather dresses, skirts, heels and boots, latex, ultra short mini skirts and dresses, very elaborate stylings and costumes… The list goes on and on. Many of these things were a taboo and an absolute no-go to be worn in public, because of the heavy sexual connotation and the tantalizing appeal, and many artists in the gothic culture build their entire trademark around playing with sexual fantasies and visual features – do you think that these provocative, sexy elements belong to the substance of the gothic scene? Do you think that these elements are now a little bit withered in nowadays goth community? If so, why do you think it is so?
I don't think being a Goth girl is all about being sexy. Of course, the main theme is black clothing, pale or really white skin and heavy makeup which has a special and very own sex appeal I really adore. Especially the makeup is something I can not only get behind but also love myself.  As a former beauty blogger I have a lot of different eyeshadows, lipsticks and other stuff lying around and working in a drug store doesn't minimise my collection at all 😀 So naturally I like to play around with makeup and mostly when it comes to getting ready for a party. I miss this passion in the Goth scene. I mean, just look at the experimental styles the Goths in the 80s and 90s wore even in everyday looks! Most of the Goth people today only wear (badly blended) black eyeshadow, some eyeliner and mascara. Sometimes they wear a dark or red lipstick, but that's it. So many girls (and boys too!) could look a lot better or more interesting if they'd actually learn how to do a proper makeup which compliments their "chocolate side" instead of going for the cliché "dead raccoon" look. I also think that many Goth girls don't know how to wear the "right" clothes. There are so many girls wearing those cheap ass corsets with plastic sticks and black lace over red or purple satin, it's boring. Corsets can be expensive, yes. But wearing a good one with metal sticks which is laced by someone who actually knows how to cinch a waist with it makes a casual outfit so much better! And there is a corset for everyone, from size zero to plus sizes, full bust, underbust,… The options are nearly limitless. Another point are the stockings: so, so many girls wear their stockings the wrong way! The lace has to be near the underwear (if you wear any), not somewhere near your knees. There are overknee socks for that and yes, your stockings will be recognised even if they are that high. I could go on and on about this and in general I think the Goth scene needs some proper education (or even better: some more "real life" role models) about style and makeup. I have the feeling that 90% of the Goth girls I see are happy with their style and appearance and well, if it doesn't hurt others why not? But there are some fashion faux-pas where I really don't know why they still appear so often. Why look mediocre when you can shine? The reason that the more sexy style in clothing is fading is just fashion I think. Today you'll see more Nu Goth stuff with a witchy vibe, long oversized dresses and shirts and leggings instead of the fetish clothing Goths wore some years ago. It's just not the trend I guess. Many people I know also "settled down" which is a point I will also get to later.
Girls in the goth scene often play around with a  heavy and sexy self-publicising and attention grabbing attitude, don't you think this is something very familiar to the whole bimbo idea?
Absolutely! It may be a slightly different attitude but overall there are definitely similarities. Although I think that the Goth scene often is a home to many mentally ill persons and that a lot of this attitude is caused by different disorders and the general feeling of "I don't get the attention I think I deserve and nobody understands me". Don't get me wrong here, I don't think the majority of the Goths is mentally ill and I may sound two-faced here because I struggle with my Aspergers and manic depression too but you won't find another subculture romanticising mental illnesses like the Goth scene does. In the Bimbo scene the focus is more on sex so the reason for that attitude is another. Girls wearing collars with the word "slut" on it are rarely seen at Gothic parties. You may find something like that in the bedroom but not often worn outside of it which is fine for me but I wouldn't mind some girls being more open with this topic.
There are some girls in the goth community who not only cultivate their own beauty and their sex appeal, up to insane levels, so that one could think those girls would have become absolute bimbo rolemodels if they wouldn't have happened to be goth girls – isn't it absolutely logical to proclaim a whole new concept in which the attitude of girls like that, who want to be really feminine, sexy, beautiful and -in a dark way- "bimboish" is connected with the great sexual appealing and aesthetical styles and items the goth scene has to offer? You know what I'm talking about: The whole "gimbo idea" – What do you think about that?
There are many different Gothic styles and I wouldn't necessarily say a whole renaissance gown or steampunk outfit isn't feminine or sexy for example. I think it depends on personal taste and aesthetic but I guess you think of patent leather, latex and other materials and accessories here which have a heavy fetish connotation. A lot of people wearing clothes like that tend to be more extreme and extrovert which is a good base for being a Gimbo. Fetish clothing is more common in the Gothic scene as part of a party styling but I already saw a lot of bimbo girls wearing harnesses or collars, too. I think those accessories are not bound to being a Goth girl and when you think about the whole DD/lg community or even the Metal and Punk scene which has a complete non bimbo/ gimbo style it's far more common in general. You can even get nice collars or harness lingerie at shops like Primark or H&M nowadays and websites like eBay or Wish make it a lot easier and cheaper to get your hands on special accessoires even for people having nothing to do with the original subcultures those accessoires come from. I really like the whole idea and I like looking at those girls so one could say that I'd encourage more girls to step out of of mainstream fashion in favour of a sexy style – but everone as they like. You can wear "boring" basics and pimp them with buttons, lace, studs and some good cuts with a scissor. Youtube tutorials are a good way to learn some makeup techniques – the possibilities are endless even if you don't want to spend much money and just be a little creative.
Does that concept sound attractive to you? Would you participate?
I am not sure about this. I am chubby and because of my legs rubbing against each other I get a rash whenever I don't wear tights so I'd never give them up. I cannot walk in high heels due to my weak ankles so that's another reason against the classic gimbo style. But overall the concept sounds good to me and I am not aversed to it at all.
There are some girls who seem to already have connected the bimbo- and the gothic-spirit, like our gimbo rolemodels Lucifera and Sambalina Roselli – and even bimbo rolemodel Josie Stevens, who promotes herself often as "Gothic Barbie" on twitter, something that may have to do with her marriage to famous rock guitarist Steve Stevens. Don't you think that could be a way to go? What do you think of these girls?
Those girls are often mocked for being a gold digger, girls without brains or not "real Goths" which I don't really get. Looks don't say a thing about intelligence and there is no test saying how "real" a Goth girl is (whatever that means). The cliché of the "dumb plastic doll" is something I noticed that is not true at all. No Bimbo girl I saw is stupid in any aspect, most of them are in fact very clever, independent and even their own manager. They learned how businesses work and use that to get what they want which is nothing reprehensible I think. I understand that it's easier to talk behind someone's back than to say "hey, I'm jealous" or "I admire you" or to make a compliment and most women prefer insulting others instead of empowering each other. But in general, I have no negative feelings towards them. I'm not quite sure if one could count them in here but I already follow Freya Phoria, Alicia Amira and MyLittleVronie on Instagram and I absolutely admire them! They already worked together for a photo shoot last year and all three are bimbo/ plastic positive but also play with the Goth and fetish style, especially Vronie who made some nice photos showing off her sadistic and dominant side. All three are very friendly, open-minded and absolutely smashing and I like their unique styles a lot. But maybe my preference for a more Gothic bimbo style is due to my own connection to the Gothic scene here.
Why do you think so many goth girls are so opposed to ideas like that? Some years ago, goth girls seemed to be the spear head of sexy girls who want to become sex icones and showcase themselves in the most sexy outfits and styles you can think of… Nowadays often they seem to be the most prudish girls you can think of. Is there a way to spread the gimbo idea in the gothic culture?
I am not quite sure what you mean with "prudish" here because many people in the Goth scene still generally are more open when it comes to sexuality. I sure noticed a change, too – when I moved to the town I now live in almost 10 years ago there were not only many, many more Goth girls going out and partying but they also wore a lot sexier stuff than today. But I don't think this has necessarily to do with them being more prudish but with the whole scene dying slowly. In most cities there are too few locations or they are too far away and most importantly, people get older, "settle down" meaning they get married and have children so their focus isn't on parties and such fun anymore. Going out has become a 'special event' they do every other month and then it has to be more comfortable than lying on the sofa which is hard when you invest a few hours preparing and then wear high heels or plateau boots and a tight corset for the rest of the evening. Another problem is the younger generation which is sometimes too young for clubs (or not even interested because why spend money when you can party at home for less?) and also trying to achieve a more casual goth look than a few years ago as I already mentioned before. There are too few baby bats, too. Most of the younger people I meet listen to Rock, Metal or Goa or they are Goths, but like faeries, elves and other fantasy stuff like all the cosplayers and those subcultures never really were the symbol for sexy girls (except cosplayers but I'm talking about hardcore 14-year-old otakus here). So spreading the idea could be a very hard mission and I also think there are too few "real life" gimbos to look up to – people you actually meet at parties and who are not "unreachable" like the famous people such as Dita von Teese or Dani Divine. You invest more time in your style if your friend needs 3 hours preparing than if they wear everyday clothes too and it's easier to ask a person you actually meet where they got their shoes or dress than to spend days searching online for a similar dress that you saw on a Gimbo like Starfucked. And last but not least I'd feel uncomfortable suggesting a different lifestyle to another person. I think everyone has a different taste and that's okay and no one should be forced into a lifestyle they don't feel like living. I would support and maybe help and advise a friend if they wanted to achieve a sexy bimbo/ gimbo style but I'd never push someone into that.
What about your personal close circle of acquaintances? Do you know any girls in the goth community who could be declared as gimbos and do you know girls who would want to become one or might be interested in the whole topic? Would you introduce them to this idea?
Well, I know Candy Plastique and overall I think you could count her in here. But I don't know too many other Goth girls which could be declared a gimbo (meaning I am not friends with them) and like I mentioned above I don't think I could push someone towards this whole idea. Encouraging to keep evolving, yes, but not suggesting and pushing towards it.
As we already stated, there are so many styles and sub-styles and items in the gothic scene which are perfectly fitting a sexually idealized goth-doll, like stockings, short, tight skirts, sweet outfits, high heeled boots, etc. What things come to your mind when you think about fitting a perfect gimbo doll? Do you make use of such items? Do you know girls who do regularly? Why not make it more often and in a more dedicated way?
I think stockings, a good fitting bra, a tight corset, a short skirt and some plateau heels are the perfect basic outfit. It's not very clever or outstanding when you first read it but I think that good basics are very important and sometimes even better than a look thrown together but not really fitting together. You can still add some personality with accessoires and eyecatchers like a harness, choker, jewellery, etc.
Personally I don't use those things too often because I am a lazy piece of shit 😀 but I use some accessoires like collars or visible harnesses. Sometimes I wear overknees. I used to wear a lot of pvc clothing and I still have some but since I gained weight those clothes either don't fit anymore or don't look too good on me.
A problem with dedicated outfits like that is that instead of compliments you get hateful looks, rumours and creepy guys even following you home (or worse) and this is not the attention anyone wants to get. Maybe this is one reason so many girls try to wear not so revealing clothes – for me it certainly is. People have prejudices and girls with dedicated, detailed looks are often seen as arrogant, shallow and stuck-up if not easy, slutty (in a negative way) or even as a whore (also in a negative way here). Recently I am trying to change my lazy style a bit because my new partner actually goes out with me and likes it when I wear sexy outfits and also I don't give a damn anymore if people talk. They'd talk anyways. There are still some girls wearing full on latex dresses and heels, just not that often. Maybe the town I live in is not the best example and I guess in bigger towns such as Berlin, Leipzig, Munich or the Ruhrpott cities like Dortmund, Essen and such are better places to look for those girls in Germany. Bigger parties always attract more people and more people mean more variety.
Stay tuned for part 3!
Discuss this on the academy subreddit!
Support me on Patreon! Every donation helps!