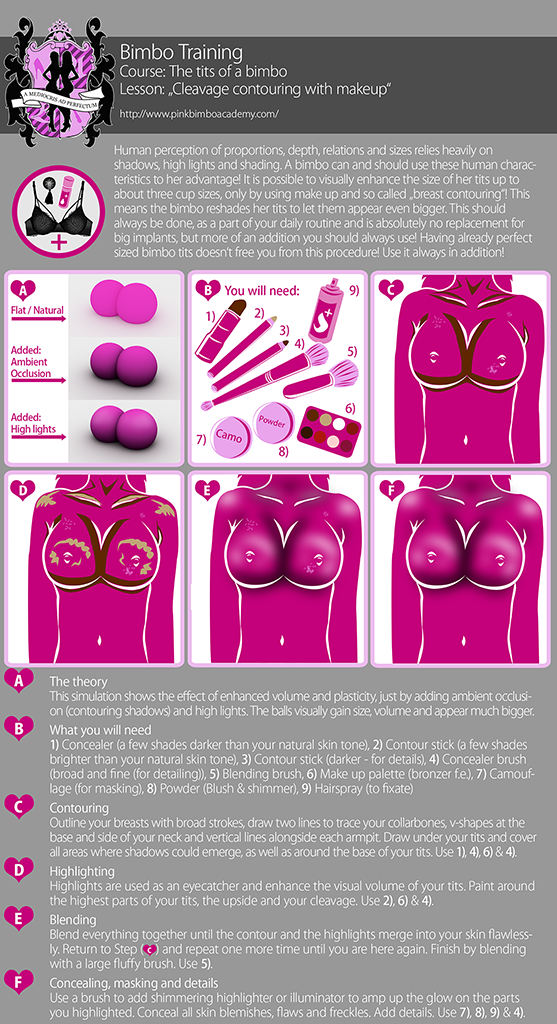 "I contour my boobs, and it's honestly the best thing ever!" – Zoe Weiner (glamour.com article).
Last time in this series, we talked about possibilities to visually enhance the size, the appeal and volume of your tits by choosing the correct tops and wearing them one size smaller. This was not the only "trick" a bimbo should use to showcase her tits in a better way I mentioned, but only one element in a whole line of optical illusions which can let your tits appear MUCH bigger than they really are. We already talked about Push ups and postures to visually gain more volume where it is always needed. I want to use this opportunity to make it clear once again: These tricks and illusions are NOT meant to make breast enhancement surgeries (big silicone or saline implants!) AND procedures to gain size redundant or obsolete! These tricks can NOT replace big implants and don't count when it comes to the basic bimbo rule about the minimum breast size! All techniques we are talking about in this series are ALWAYS additive! A bimbo definitely very much NEEDS to have "big enhanced plastic tits" to satisfy the basic rule! Procedures to increase her tits in a natural way (by massages, work out and nutrition) are meant to prepare the bimbo before her surgery and to enhance them afterwards, as well as these optical illusions are always meant to support the appeal even more in addition! In reverse, this means, that even if you already have perfectly sized, big, enhanced bimbo tits, you are NOT freed from these lessons! Every bimbo, no matter how big her tits are, should always use these techniques to increase her appeal even more and to showcase her tits in the best way possible. "Not having to put up with tricks like these" is NOT an option, no matter if you have tits like Candy Charms. Practice these tricks and make them part of your daily routine – use them in combination!
Our next topic is part of the line of the optical illusions and can have great effect, meaning it can visually increase the size of your tits by up to three cup sizes. In combination with our rule about tops and push ups, you are able to visually support your enhanced tits in a dramatic and nearly exorbitant way – something very desirable and powerful!
The human mind is constantly trying to estimate its surroundings, by evaluating the visual, stereoscopic information it receives from the human eyes. One factor that helps the brain to estimate the dimensions of an object is its relation to another object in direct comparison for example (which is why you should always have the biggest tits, the highest heels and the shortest skirts among your BBFs), or the inclusion of known, physical phenomenons and classifications. The evaluation of depth, proportions, volume, size, dimensions and plasticity relies heavily on the interaction of an object with physical laws and the way it appears in the known reality under those laws and in direct contact with its phenomenons like light for example. Light generates different natural phenomenons on surfaces and objects, like highlights, specularity and glow but also shadows and shaded areas, which are then used by the brain to estimate the state, nature, dimensions and plasticity of an object. Depending on the nature of an object, it can be easy or difficult for the human mind to make a correct guess about its attributes, but especially smooth and round objects are considerably hard to assess for the human mind, because of the absence of clear and well defined structures or edges, which makes it even more important for the brain to integrate factors like reflections, highlights, shadows and specularity in its assessment. This procedure and the nature of light itself with its accompanying symptoms can be used by a bimbo to visually increase the size of her tits drastically! By artificially adding shadows and highlights on her tits with make up, she can create the optical illusion of more volume, bigger size and catch the human eye even more. Added shadows will enhance the depth perception and let your tits visually stand out from the rest of your body, by creating the illusion that the bases of your boobs receive far less light than other parts, which means that they have to be "further away" from the light source than the rest, which consequently means that they have to be fairly huge. Added highlights will support this impression, because the upper parts and the fronts of your tits obviously receive far more light than their bases which means they have to be closer to the light source and further away from their bases, which lets them appear even bigger by contrast. Highlights do have some more benefits: By adding highlights and even glow, you create the illusion that the surface of your tits catches much more light than everything else, which would only be possible with a fairly large extent and volume. In addition, highlights and glow serve as an eyecatcher and draw the sight of every observer to your cleavage! You can see the effects I described here already at work, by taking a look at the lesson paper (and the example pictures!) above! Even the drawn tits of the illustration look much more malleable, bigger and more voluminous on the last picture ("F") than they look on the first picture ("C")!
This technique is very well known and extensively used by famous models and hollywood stars like Keira Knightley and many others. A great success story is the one of Zoe Weiner, columnist for glamour.com, who states that "…countouring my boobs is honestly the best thing ever", and incorporated these techniques in her daily routines – something YOU, and every bimbo- and gimbo- trainee should do too. She sums it up this way:
"For the first time ever, I had the dress-stretching cleavage that I'd always dreamed about. Or at least it looked like I did. I felt the sexiest I had ever felt, and all it took was some contour stick and highlighter. My boyfriend obviously knew it was makeup—he has no illusions about the fact that I grew three sizes overnight, and the makeup on the white bedsheets the next morning wasn't exactly discrete—but he loved the confidence it gave me and was fully in support."
Of course and like I said, this isn't a surrogate or a compensational way to sidestep huge implants and plastic tits for a bimbo doll, like it is for a normal girl like the author of the "glamour article", but it shows you how effective it could be in supporting your already big and enhanced silicone tits. Use this technique in addition to all the other parts of this series, make it a part of your daily routine, practice (there are MANY video tutorials out there!) and continue to strive for the perfect bimbo tits!
Discuss this on the academy subreddit!
Support me on Patreon! Every donation helps! This lesson paper can be downloaded in hi res there!