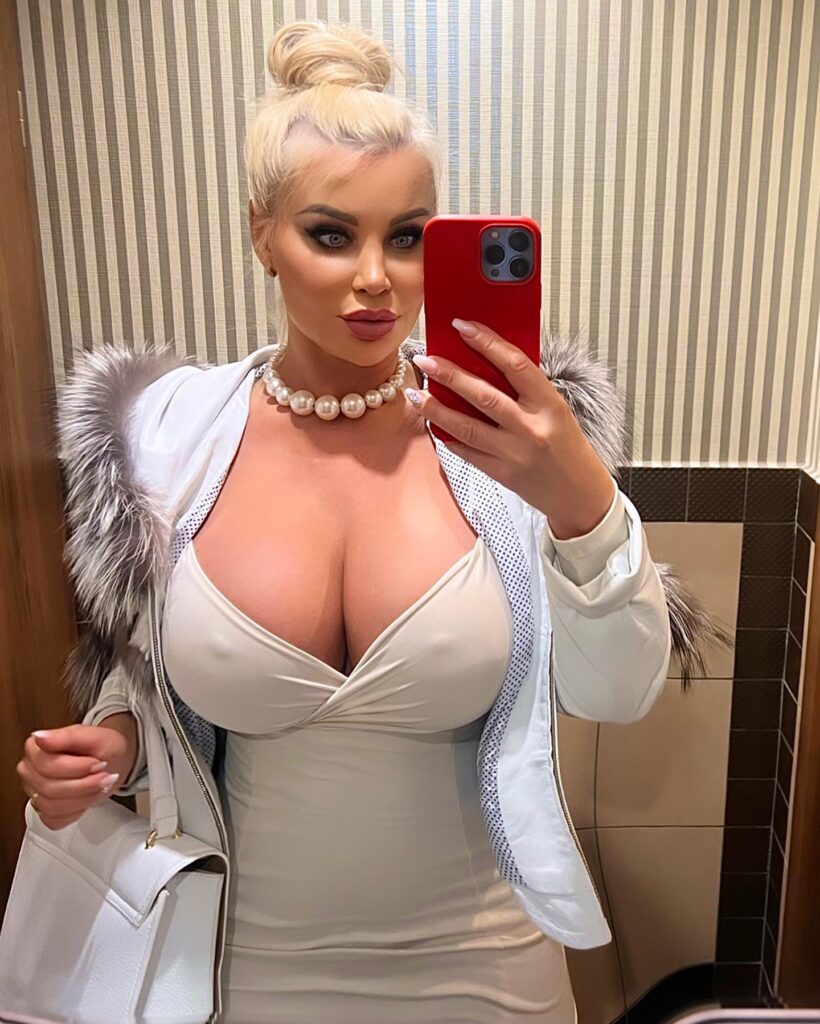 As announced, double role model post for the first time! After we had a look at the beautiful Amanda Breden – who was featured as a rolemodel with outstanding skills regarding how a bimbo is supposed to showcase her nipples – we are now going to talk about another amazing princess, who is in no way inferior to Amanda when it comes to this specific capability: The extremely sexy Mándity Izabella!
The art of showcasing your nipples in the best way possible is something every bimbo has to master – not only for Instagram, where it pushes the boundaries of what is acceptable for the terms of service, but also for the every-day-look and style of a bimbo. Todays rolemodel is a true whiz when it comes to this aspect of bimbo behaviour and style, having perfected all the different techniques we talked about before in the respective lesson paper. Every bimbo suitable way of highlighting her nipples is part of her repertoire, always scraping on the edge of what Instagram considers tolerable – at least as long as you don't look at her twitter account, on which she proudly presents her tits (and more) in all their glory. Both are acceptable ways of leading attention to your boobs and showing them off – but the point is, that a bimbo should behave in public like our rolemodel today behaves on Instagram: Lead attention to your tits, present them proudly, only use bimbo suitable necklines – and make use of all the different techniques of showcasing your nipples – always, wherever you go!
Like our last rolemodel, Amanda, who also exceeds in respecting the beforementioned bimbo rule, Mándity is a blond bimbo dream come true: Beautiful, long, flowing, blond hair (perfect fit for a true bimbo) and an angelic, extremely cute face. Big, bright, blue eyes, flawless skin, a cute, tiny nose and full lips, always coated with a thick layer of lipstick or gloss – EXACTLY how a bimbo should do it – Always! Also, like Amanda, Mándity neither has the biggest tits in the bimbo community, nor THE most perfect bimbo body – but both aspects are still up there and more than qualified for a bimbo sign of approval: A nice shape, nice hips, waist and butt and long legs – and of course beautiful, big, round, enhanced boobs (would be amazing if she would go bigger though). Another thing we should point out is her remarkable sense for bimbo suitable styles. Not only in terms of showcasing nipples, but also in many other regards: Tight, revealing bodycon dresses, extremely short skirts, elaborate make up styles, stockings, high heels, low necklines, costumes, bright and friendly colors and sexy designs all over the place – this girl knows how to do it in most cases.
With these two prime examples and the respective lesson articles and papers, now you, as a bimbo trainee should know everything there is to know about the bimbo way of showcasing your nipples and drawing attention to your tits – which is, of course, a mandatory thing for bimbos to do, all the time. I want to make use of this opportunity, to reiterate that this – like ALL the PBA rules (if not stated otherwise in the paper itself) – is nothing you just do when you feel like it, once every week, if you go to a special type of club or if you are performing in front of your webcam or for an Instagram pic! NO! A bimbo does this each and every day and it just is part of her day-to-day standard look! I presented you these two stunning rolemodels for a reason: To give you many, many, many different examples of how to apply the beforementioned rule from our paper, so there wouldn't be any excuse why you can't do this every day, starting tomorrow. Amanda and Mándity provide you with different looks and styles that do follow the PBA rules, and if you truly want to be a bimbo, you are going after this and follow the PBA guidelines. Look at the angelic rolemodel we talked about today, at her beautiful, bimbo suitable, blond hair, her sweet face, the amount of make up, her big, enhanced tits and her respectable body shape – her sexy, feminine styles that emphasize her boobs and especially her nipples, which draw all the attention, like it should be. Look at her – and take her as your rolemodel when it comes to this special aspect. This is how a bimbo showcases her nipples!