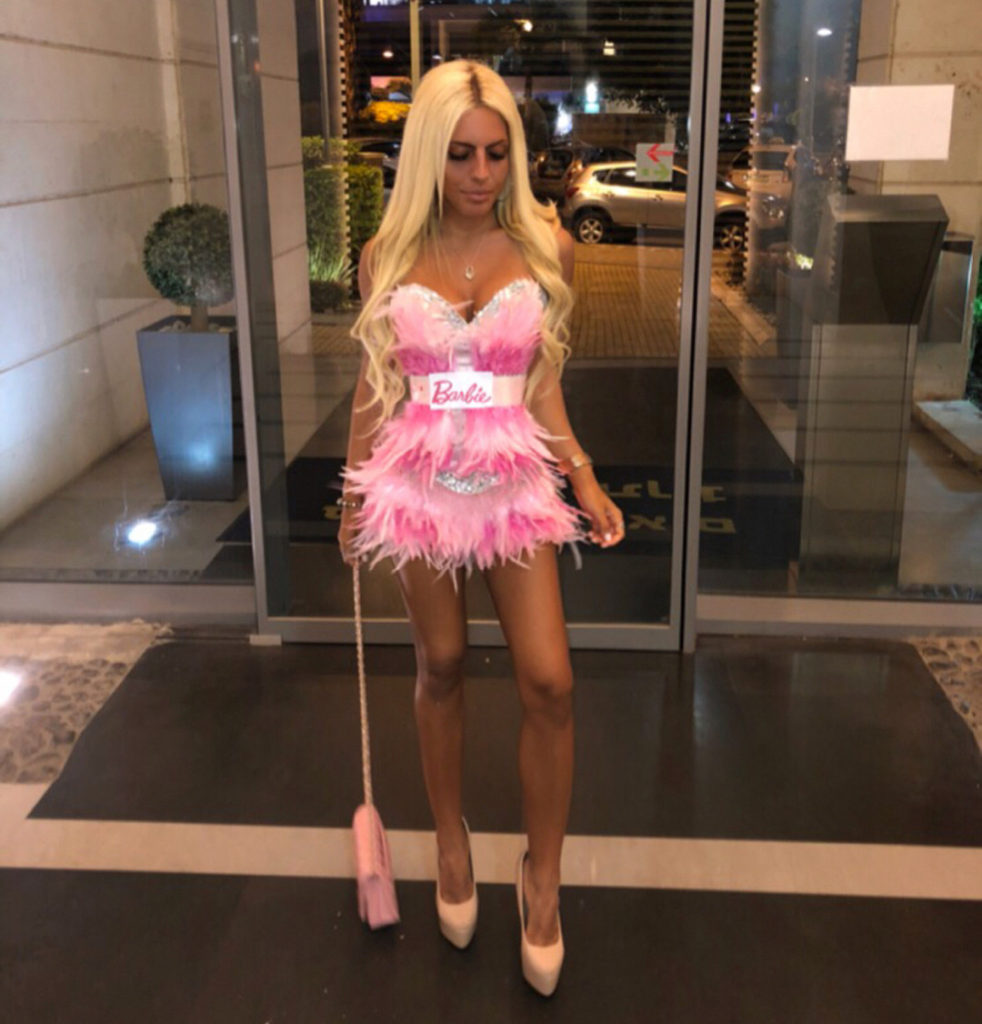 Okay, let's have another style check! The last one was very well-received by the community – I guess because of the absolutely phenomenal outfit we examined there. Today, we have another absolutely stunning outfit, although it is completely different in relation to the last one. Usually, we deal with everything from head to toe – but this time, we're going to start with the main attraction first, because, frankly, there isn't much else there. You guessed it, the star of this picture is the fantastic minidress, not the girl wearing it, although she absolutely has great bimbo princess potential. I would really love to know if this piece of fashion is something you can buy, maybe even designed by some professional designer or if it is a custom piece, home-made by its wearer – so, if you have further information about that, please let me know! But what are we talking about? The dress is a dream come true for any dedicated bimbo princess, with MANY welcomed features: The strapless upper part consists of just two cups for the tits, providing an amazing insight on the cleavage like it should be, manufactured of glittering, sparkling, silver pallets. The combination of a strapless, deep plunging upper part made of glistening, silver elements is an absolute attention drawer and guarantees many glances, if not that all eyes are stuck permanently there where they belong. In fact, it is difficult to tell, if this dress is one piece, or a combination of two different things: The upper part, from the cups down to the waistline, seems to be composed uniformly of said silver pallets, but is covered with some kind of corsage. For the sake of this style check, we will treat this as if it is just one piece, no matter if that corsage could be separated from the silver dress. The corsage is a pink feather sheating, separated in the middle, but also belted together, by a bright, pink belt, tied together on the back with a ribbon. The big buckle, directly underneath the tits, is crested with the well known, proud "Barbie logo". Absolutely amazing. The pink feathers have the best color for bimbos, drawing even more attention, the tight belt stresses the waist and the typo on the front can't be seen as something else than a proud and bold statement. This screams "BIMBO" in every detail (Maybe this is what I expected Alicia Amiras "Be a Bimbo" to be…)! Likewise, the pink feathers form the lower part of this dress – barely reaching over her ass – exactly like it should be, making it very easy for her to respect the basic rule for bimbos regarding skirt lengths and the height of heels. This can be considered a PERFECT length for skirts and dresses and can't be improved in any way, showcasing her ass and her long legs in the best way possible. This dress is perfect, respects all rules for bimbos and should be a "must-have" for all dolls. A welcomed addition to this dress, are the sky high heels this doll wears, which do look like Louboutins, colored in a beige tone, which does work, but could be topped with a tender pink, matching the feathers. However – these heels do emphasize her legs and make sure she remains in a perfect posture. Very well done! Apart from the red soles, we can assume that these are indeed Louboutins, because this girl doesn't seem to have financial problems to support her bimbo lifestyle with fairly costly items: The outfit is completed with a (color-fitting), pink handbag, suspiciously looking like a Chanel 2.55. VERY bimbo suitable! The reserved use of jewelry is something I am not happy with – apart from a very small necklace, and two small, golden, bracelets there is much to be desired. What about the girl? Well, we do have very long, blonde hair, which is always perfect, a very slim body, with amazing, sexy, perfect legs, but sadly very small tits. The skin tone of this doll is also a direct hit, although she would never be suitable as a rolemodel of our ongoing series about bimbo make up, because she doesn't seem to wear much – which is a cardinal sin. However, the biggest failure here, is the fact, that she wears a black top or bra underneath this fantastic dress! After all, it is strapless, but with this kind of dress you are NEVER allowed to wear something underneath it! This is heresy! I hope, all you female readers will do better! But in the end, this dress is something you should go for – an assurance to meet the general rule for bimbos: ALWAYS, dress to impress!
EDIT: A caring user on the PBA subreddit gave me the information, that these seem indeed to be Louboutins:
"These heels look like Louboutin Daffodiles. There's a bimbo crystal version of them." – bimbochastity on the PBA subreddit
Thank you very much for this information!
If you love what I'm doing here, support me on Patreon! I'm trying my best to provide you guys with more and better posts! Thank you
Discuss this on the academy subreddit!