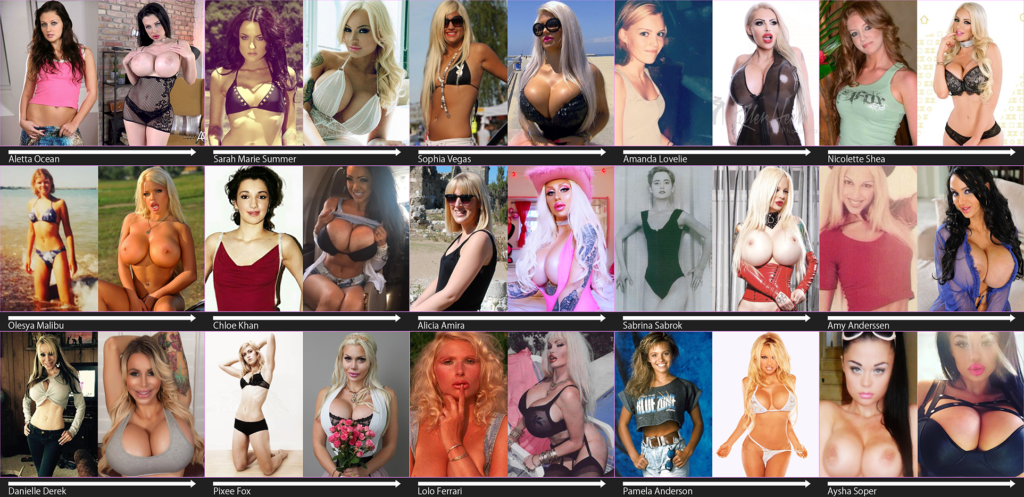 By now, you, as a bimbo trainee, have learned nearly anything there is to know about tits for a bimbo. By following this series, which is reaching its end, you have received many information about different implants, sizes, shapes, ways to increase the size of your tits – both in a natural and in a very much needed artificial way, reasons why you should follow these ways, benefits of perfect bimbo tits, strategies and techniques to showcase them, ways how to pose, dress and style and so on and so on. In addition, we have spoken about many different rolemodels, many of them with pairs of breasts, a huge amount of bimbo lovers would call "perfect" (some of the best transformations can be seen above!). So, with all these information, the visuals, the discussed benefits and reasons, you should be convinced to try to equal said rolemdels and get some perfect bimbo tits yourself (otherwise I am at my wit's end and I don't think I can win you over to strive for bimbo perfection, just by writing this blog for you to read)! But let us assume, you are flirting with the idea of getting those perfect bimbo tits… what holds you back? In most cases, the answer will be: "Money"! So let's have a look at things you can already do to prepare your tits to become perfect bimbo tits and let's have a look at ways to deal with that problem called "cash":
We have spoken about many different things you can do to increase the appeal and in some cases even the size of your boobs, without having to spend any money at all, or at least, only a very little amount. I like to use this opportunity again, to remind you of the different articles, with techniques you should definitely make use of, in order to enhance the visual and haptic quality of your tits, as well as to prepare them for the inevitable breast enhancement surgeries, even if you don't have the needed cash ready yet. To achieve perfect bimbo tits, there is much more needed than just a surgery – so you better start as soon as possible to follow these guidelines:
8. Procedures to increase the size and state of tits in a natural way
9. Workout and training to get the tits of a bimbo into shape
10. Nutrition and supplements to support the tits of a bimbo
These are the strategies we talked about, for which you don't need any money (or very little) and no special circumstances at all. Just change your diet plan, implement the new training in your daily workout routine and get used to the daily massages. Following these quidelines, will not only enhance your tits already towards bimbo perfection, it will be a perfect base for further optimizations:
Getting "plastic tits", is certainly NOT a cheap undertaking! The average cost of a breast implant surgery is about 6,600 $, which includes small implants (not suitable for bimbo dolls) but not necessarily any additional procedures that may arise, like breast lifts or even custom made implants. Depending on many different factors, like the actual implant size you are able to get, the surgeon you chose, the region your are living in, the type of implants, your natural boobs and body, said special, additional procedures and other aspects (travel costs, additional aftercare, etc.), the amount of money you need can skyrocket and will most likely lie somewhere between 4,000 $ to 15,000 $. If you are wealthy, saved a large sum of cash or have a rich partner who is willing to invest in your bimbofication, this may not be a problem at all – you are just good to go and can start right away (why didn't you already get some big, enhanced, perfect bimbo tits??? Or at least an appointment with the surgeon of your choice???), but for the major part of bimbo trainees, this absolutely is a problem. So, is there anything else, apart from the "stop being poor"-advice, many people tend to give when this problem gets mentioned? Well, sadly, I can't give you a manual like "how to get the needed money to finance your big, fake, silicone boobs", but I can give it a try and collect some ideas which may help you to achieve just that. These ideas have already helped many bimbo dolls, well established girls and newcomer bimbos to collect the needed money to increase the size and appeal of their tits and get them closer to bimbo perfection.
Work for it. This is obvious, but for the sake of completeness we will talk about that, and maybe there are some options for you to influence this factor with the weapons of a bimbo. While there are many different jobs predestined to be done by bimbo girls – many of them in the wide areas of adult entertainment, but surely not all of them, like, for example "the stewardess", which is very suitable for a bimbo doll, or fitness instructor, or Playboy bunny – of course, every girl is free to get the job she really likes and wants to do, no matter what that might be, like I said in my answer to a question on the blog a long time ago:
"(…) every bimbo girl has to decide, whether she wants to keep her job on her own. While there are certainly no objections against bimbo dolls, rejecting an every-day job, just living their bimbo persona, styling, dressing, shopping, partying and so on, perhaps financed by a sugar daddy, her master/trainer/husband/boyfriend or by working in typical bimbo jobs (stripper, camgirl, cheerleader etc.) – there are likewise no objections against bimbos who do want to keep their normal job. This depends on what makes the bimbo happy. If you do love your job, and/or get good money out of it, there is no contradiction between being a good bimbo girl and having a job you like. At least, being a bimbo is about "being a happy girl" too. Bringing your job and your bimbo persona in line is a different thing and can be complicated. This depends massively on what your job is: If you are working in a creative field, like designer, artists, etc. there shouldn't be a problem living your bimbo persona. These jobs do welcome individuality and special styles. Just go for it – full bimbo. If you are working in an office or more serious places, you have to adapt and adjust your bimbo persona to those surroundings. It should be obvious, that you can't go to work in the office in a pink, short, leather mini skirt, wearing a tiara on your head, but that doesn't mean you have to hide your bimbo persona completly. I wrote an article about "the bimbo secretary" where you can find some advise. Of course, you don't have to look like Candy Charms to be a bimbo secretary, but you can make some unobtrusive statements to satisfy your bimbo persona and to signal everyone your true personality. Estimate and evaluate what your work environment would still consider as "professional" and "appropriate". Never cross that line. But use that maneuvering room to unfold your bimbo persona: Wear high heels – classy, shiny, black stiletto pumps. Try to be sexy, but not in a cheap way, but in a fashionable and stylish way. Wear stockings, no pantyhoses or pants if possible. Wear a short pencil skirt. How short? Well, that depends again on what your work environment would still consider as "appropriate". If that means your skirt has to touch your knee – well, so let it be. Wear classy make up. Do anything to be the work colleague every man wants to work overtime with. And, most important, be the girl your boss would say about: "Damn, she's not only one hell of a sexy, classy girl – she's one of my best employees at all!" In the end, if you do good, valuable, professional work and get the job done – fewer people will measure your level of professionalism by the way you look. So, if this describes your work – head over to my "bimbo secretary" post to gain some ideas about how to dress and how to behave. If you are working somewhere else, where, for example, you have to wear some kind of unsexy uniform – or where you have to do hard physical work, try to retain some bimbo details. How about some jewelry? Are high heels an option? Is it possible to wear make up or beautyful hair styles? Work with details and hints. How much you can present your bimbo persona depends on your estimation." (– Link to the tumblr question.)
The connection of your bimbo persona and you workplace might very well help you to increase the amount of money you are receiving! This statement gets backed up by an article written by Samantha Brick (who wrote another article named "There are Downsides to Looking This Pretty': Why Women Hate Me for Being Beautiful", which went viral and was attacked by envious, boring and vitriolic mannish women) called "I use my sex appeal to get ahead at work… and so does ANY woman with any sense" in which she explains how she managed to increase her wage continuously by accepting her femininity and using it to her benefits (even the Playboy bunny factor and its power gets mentioned!):
"I engineered such opportunities. I'd arrive early — looking perky — to have that valuable 30 minutes of chat with the guy who controlled my wages and the path my career took. It paid off — I went from job to job, with a salary increase each time. I was soon invited to award dinners, networking events and one-to-ones with superiors; I'd been spotted and my star was in the ascendant." (– Samantha Brick, Daily Mail Online)
There are many books, sources and manuals available which teach you how to weaponize your bimbo features in order to be more successful, one of them being this blog and of course, for example the book that gets mentioned in the quoted article "Honey Money: The Power of Erotic Capital". If you are working in a job you really like, even if it is not bimbo related, there are some possibilities for you to connect your bimbo persona with your employment and even get the chance to gain a little more money for your "boobs-piggybank". Maybe heed the suggestions Samantha Brick makes, be a little flirty, open and "bimboish" in the presence of your superiors, dress in a sexy way, show your legs, wear some high heels, more make up, wear stockings instead of pantyhoses, skirts instead of pants and maybe show a little more cleavage? When the next salary negotiation is approaching, you, as a bimbo trainee, should not only heed the typical advice given for those situations, but use your bimbo powers in addition! If you manage to save a little amount of your wage each month (100$ could be enough), you will gather enough cash over time to make your dream of the perfect bimbo tits come true! Work hard, embrace your femininity and your bimbo persona – and use it to your benefits and save drastically for those implants!
So, this is one way of using your bimbofication to finance your bimbofication – but what else can you do with that? Well, if you are ready to commit yourself and really want to come out with your bimbofication, there certainly is a LOT you can do! Using bimbofication aspects at your workplace is of course, one example of applying it in the real world, and we will talk about some other possibilities there too, but let us deal with another big part first: The internet. For many people the internet (sadly) is the major or even only possibility to participate in bimbofication. Massive communities and social media channels process thousands of bimbofication related pictures, stories, links and sites – daily. There is a big scene out there in the world wide web, that is undeniable, mostly consisting of male bimbo lovers, bimbofication fans and guys who just happen to love big, fake tits. Of course, most of these people just love to look at the pictures of already transformed girls with huge implants – but there are also many true bimbo lovers who play a more active role. These people have realized, that they can actually influence the bimbofication of girls they don't even know via the wonders of the world wide web. Why would they do this? Well, there are many different reasons for men to reach out and become an active bimbofication supporter, but let us just talk about the most common ones:
Some of them realized, that by supporting girls in their bimbofication, and helping them out, they really change the world and make it a better place. It is not only a matter of principle for them to spread the ideas of bimbofication, they very much know the direct and indirect consequences of their actions. By helping girls out to get some big implants, they didn't only participate in adding one more bimbo to this planet – they also paved the way for many more to follow. As we already examined in one of the posts of the BBF series, bimbos do influence and inspire, other, normal girls, either in real life, or through social media propaganda. If there weren't all those well established and beautiful bimbo dolls already, chances would be very low for a "normal girl" to notice these possibilities and discover one or more of these dolls as her new rolemodels, leading to her trying to emulate that special visual appeal. You can see the level of admiration these very early bimbo trainees express towards their rolemodels everywhere, no matter if you look at the comments on instagram or twitter, posted under selfies of said leading dolls. So, by helping to spread the bimbo look, they also help to spread the bimbofication ideals, establishing the ideas and the visual appeal of bimbos. On the long run, this will lead to higher numbers of girls who are interested in becoming truly perfect bimbo girls. And there can never be enough. In fact, I would only consider my work done here on this blog, once every girl on this planet has become a perfect bimbo doll.
Some people just like to give a girl they like a treat. Yes, it's just that simple. Believe it or not, not all people in the bimbofication community are selfish perverts… there are guys who like to support a trainee, just because he thinks she is pretty and lovely and deserves to get her big tits. So…. there is that.
Many people in the bimbofication scene want to see you progress! To many, the result of a bimbofication process is less interesting than the process itself! If they can help you out, participate in the transformation and see the changes you make, they consider the money they are donating very well invested.
Some guys do it because they get something out of it. There is nothing bad about that, and there are many different benefits a man may hope to obtain when he decides to support a striving bimbo trainee. A bimbo trainee might offer pictures of herself, or videos, access to a direct and/or personal way to communicate with her (snapchat f.e.), blog entries or special goodies, in exchange to a small contribution for her breast augmentation. This can be considered a fair trade and does benefit both sides: The trainee gets a donation to get one step closer to her financial goals and the supporter gets some nice pictures or whatever they agreed on. Another thing some men might hope for, is to establish a more private and personal connection and relationship to the trainee in question, by supporting her with money. While this is absolutely NOT A THING a supporter can just expect, it is not completely insubstantial. There have been very close relationships between a trainee and supporters in the past, which sometimes even became a real life thing, but this is very unusual and certainly not something to envisage.
There might be the option for different agreements, if the trainee decides to look out for a full blown sugar daddy. These relationships do exist in the real world (MANY well known bimbo rolemodels do have real life sugar daddies), solely over the internet or in different shades in between, depending on the agreement that has been made by the trainee and the future sugar daddy. This can be anything, from just personal messages about how the day was spent to regular and periodic real life meetings (with or without sex, with or without "girlfriend experiences") or mutual spent holidays for financial support and presents. Usually, the relationship between the sugardoll and the sugardaddy is something very exclusive and features high to very high donations for the trainee.
Another step for a bimbo trainee would be to enter the world of adult entertainment, a suitable, additional occupation for an ongoing bimbo doll, with several different levels of devotion. A girl doesn't have to become an escort instantly, (although, that is certainly a possibility, even with the perspective to become a high class escort with only one or two different, well affluent customers, reaching a sugar doll – sugar daddy relationship. MANY well known bimbo dolls do handle it that way (f.e. Sila Star, KissApril, and others)!) or a pornstar (which is also an option, taken by MANY different bimbo rolemodels (f.e. Alicia Amira, Sabrina Sabrok, etc.)!), but there are other ways to give this business a try to earn money for some big, fake tits. An ongoing bimbo trainee could attempt to become a camgirl and earn money by absolutely deciding what content she produces and what she would like to show on her own (like bimbo goddesses Amy Anderssen and Melanie Lexxx). Many different bimbo dolls do this and offer a variety of different themes to make money for their further bimbofication.
So, what should you do if you want to gather cash for your big implants in order to become a perfect bimbo doll, and if you want to come out as the ongoing bimbo doll you are? Work for it and save money, okay, we established that, but what are your first steps to take the bimbo community by storm? Well, let's have a look at that (BUT: Keep in mind, these steps might take a long time! Most likely you won't become a bimbo superstar over night (like Kelly Pearl, and she already had her implants…)! Expect this process to happen over a year or so):
1. The first step, is to go public. Think of a suitable and fitting bimbo name for yourself and register accounts on the common meeting-places of the bimbo community – the more, the better. The most important ones are twitter, instagram, tumblr, reddit and snapchat. Give your channels a fitting visual identity and streamline them as far as possible. Give clear descriptions of who you are, what you are trying to accomplish and what represents you.
Register on instagram – twitter – snapchat – reddit – tumblr
2. Produce content. Dress up, style yourself, try to be the best bimbo you can in the current state and take pictures and maybe even videos. The usual selfies are fine for the beginning, as well as those typical "mirror shots", but sooner or later you should have (semi-) professional photoshootings or at least someone else, taking full body pictures of you in a high quality. Make sure the quality of your pictures is at least "good"! This means: Well lit – not noisy or too dark, not too overloaded with filters (although the use of some instagram filters can be considered standard). Produce a variety of pictures, do NOT just retweet/repost/reblog the same picture over and over again! Be well dressed and styled in a bimbo suitable manner! Produce pictures with different poses, styles, clothes and with different fields of view! Stay true and be proud of yourself! No hiding your face or blocking out stuff! Create new content regularly!
3. Follow other bimbos, rolemodels, bimbo lovers and communities and try to engage in discussions. Many of the girls in the bimbo community are very kind and lovely girls. Follow them, like and comment their pictures, send them some nice messages and they will respond. You should try to participate in discussions and get to know the guys in the online bimbo community – many of them will do a shoutout for you or just follow you back.
4. Next, the bimbo community has to notice you. Nowadays, many different, very perfect rolemodels dominate the social media channels and you have to become active in order to draw attention. There are many possibilities for you to inform the world about your plans. No matter if you are a goth girl or a bimbo beginner! Post in the usual communities and talk about your plans and what you want to achieve once you have the needed money. Set your goals HIGH! More people will be interested in your bimbofication if you are enthusiastic and dedicated! A statement like "I want to get 250cc silicone implants – need money" wouldn't be taken very warmly. A statement like "I want to become a perfect bimbo doll with 2000cc tits! Any help? :)" is something completely different! But: BE HONEST! Never lie, never steal pictures or content of other girls, never impersonate someone else, never fake! Be open and honest, try to post and comment regularly (at least 3 – 4 days a week), be kind and welcoming and try to be the best bimbo you can be.
Visit the communities: /r/bimbofication – /r/bigtiddygothgf – /r/bimbooasis – /r/bimbotransformation
5. Make up your mind about how far you will go and set up your support-channels. First, set up a Deliverycode account to create wishlists and receive tips without giving a tangible counterperformance. Amazon wishlists ARE NOT suitable for this, because they aren't completely anonymous and someone could find out your real name and address. With Deliverycode you are able to maintain a wishlist with presents your fans can buy for you and even get money for your implant-piggybank completely anonymously! Create a Patreon account and think about the content you want to offer. Be honest and stick to the offerings you make! Have a look at the patreon channels of other bimbos to get a feeling of what might be appropriate. In addition, or instead, you might want to create an Onlyfans account, to be able to produce custom videos and pictures for your fans on exchange for donations. ALWAYS make your goals clear and what you need the money for! Be transparent and set a funding goal for your implants! This will motivate your fans to contribute! You might want to start a gofundme campaign, as a crowfunding solution to get the money you need to obtain your big implants.
Register your support sites: Deliverycode – Patreon – Onlyfans – Gofundme
6. Think about further steps. Are you interested to fully commit yourself? Think about becoming a camgirl? Register on Camsoda and/or Chaturbate and receive money for the content you are producing! There are already some very well known bimbo dolls who make good money on those sites, like Amy Anderssen or Melanie Lexxx. Maybe you are looking for a sugar daddy? If you want to inform yourself and think about taking that step, you should have a look at the sugarlifestyle subreddit first! There, many girls will help you out and share their experiences. After that, you can create an account on seekingarrangement for example to cast the fishing rod.
Visit these sites: Camsoda – Chaturbate – Seekingarrangement – /r/sugarlifestyle
7. Go one step further? Well, you could think about becoming a pornstar or an escort… this is also not unsuitable for a bimbo doll…
PAY ATTENTION TO THIS, when you get in contact with someone from the porn industry! – How to become a pornstar – Read this first – Future escorts should look here!
As you can see, there are MANY ways to use your bimbo persona and your bimbofication to finance your bimbofication process! These are only some examples, but you can always choose how far you will go and what you are willing to offer. However, most important thing is, to come out with your plans and your bimbo persona and stop hiding! Being a bimbo, is about being seen and being in the center of attention! Be open, honest, hardworking and the best bimbo doll you can be, use your bimbo powers to get what you want, no matter if it is at the workplace or in front of a camera – and you will be able to get those perfect bimbo tits we talked about in this series and the massive, perfect bimbo tits you always wanted!
In addition, if you want to get known in the online bimbo community – feel free to drop me a message! If you are able and willing to verify yourself, we can make something out. Furthermore: Feel free to post on the PBA subreddit to introduce yourself!
Discuss this on the academy subreddit!
Support me on Patreon! Every donation helps! These lesson papers can be downloaded in hi res there! Thank you very much!
There are many ways to support me! Please look into it!