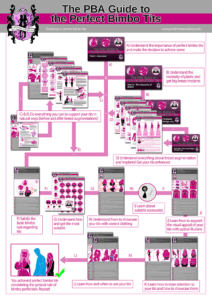 This is it. This is the end. Well, at least the end of our current main series, which started 1,5 years ago, back in 2017 – the last post of our series about the perfect bimbo tits. After 24 articles, we dealt with every detail, every aspect and every quality of breasts, what distinguishes them from dedicated bimbo boobs and how to achieve perfect bimbo tits. Having read this, by now, you should be well informed and you absolutely should know what to do and why and how to achieve it: If you are a girl/bimbo/trainee/gimbo – there is nothing stopping you from getting those perfect bimbo tits! Let us summarize everything we learned and after that use those elements in the correct order as a roadmap on the way to boob perfection. If you follow this guideline, you are pretty much destined to achieve those perfect bimbo tits, so what are you waiting for? FOLLOW THIS and claim your perfect bimbo tits!
Overview
1. The perfect bimbo tits – introduction & overview
2. The basic elements, concerning the tits of a bimbo (The basic rule)
3. Natural & enhanced – the necessity of "plastic"
Implants
4. Types of implants (saline, silicone, strings, filler, internal bra, fat)
5. Types of accommodation (over the muscle, under the muscle, scars)
6. Types and sizes (tear, bulge, round, natural, 50cc – >1050cc, textured & smooth)
Lessons
8. Procedures to increase the size and state of tits in a natural way
9. Workout and training to get the tits of a bimbo into shape
10. Nutrition and supplements to support the tits of a bimbo
12. Bimbo postures and movements: Showcasing your tits – Squeezing and pushing up
(25. Intermission – Half way trough (tumblr only!))
13. Bimbo postures and movements: Showcasing your tits – Pushing your tits out
14. How a bimbo should have sex: Play with your own tits
15. How a bimbo should have sex: Care about the tits of a second bimbo
Items
16. Wearing tops and bras one size smaller
19. Bras (shelf, balcony, neckholder, front opener)
21. Increasing size with optical illusions (make up)
Appendix
22. Support bimbos in getting bigger & better tits
23. How to get bigger & better tits
24. Appendix & Conclusion
The first step is simply to understand the basics of female breasts, why they are such an important feature, why men do love big breasts and what makes them so amazing. This is fairly easy and I am sure every girl knows about the appeal of her breasts already and does understand the sexappeal that goes with them and recognizes the strong connections to the female sex and the reasons why they are called "secondary sexual characteristics". Breasts are a more or less mandatory part of the female self-concept and are a crucial part of female identity, as well as a major aspect of socially perceived and defined femininity. At the latest after having read the introduction & overview of this series, you should very well understand this concept. Having breasts that are as feminine, beautiful and sexy as possible should be one of your main goals – and you are ready to invest a little time and energy to make this come true. There are ways to increase the appeal of your rack with very little effort, like making small adjustments to your diet plan, which is exactly what you need to do. Didn't you already want to shape up a little more and change your eating habits towards a more healty and efficient diet? You read the article about nutrition and supplements to support the tits of a bimbo and included every given ingredient to a more healthy and benefitial diet plan. Your body will shape up in no time and you will see the results of a more deliberate way to subsist soon. Who wouldn't want to have a fit body and a better body shape? If you can combine this with better breasts – why not? While we're on it, why don't you include an additional exercise to your work out plan? Or if you didn't even start working out yet to achieve a better body, maybe this is the right time! No matter if you go to the gym regularly (which you absolutely should do!) or practice at home – there is always time to support your breasts – it doesn't take long! After you read the article about workout and training to get the tits of a bimbo into shape, you included these special exercises into your workout plan and in combination with your benefitial way of eating, you will soon see and feel the results. You start to feel better, your body becomes slimmer, fitter, healthier, sexier and more beautiful! Feels good, huh? Try to imagine how amazing and sexy you will become if you just keep on going! You can be proud of your dedication and the things you achieved so far – so there is absolutely no reason why you shouldn't give your boobs a little more attention. There are ways to support your breasts even more, make them firmer and sometimes even bigger – something you should try after your read the article about procedures to increase the size and state of tits in a natural way (and maybe you want to go even beyond that). You did understand all that, and you are disciplined, dedicated and eager, working out, eating in a healthy and benefitial way, supporting your tits with massages and you are feeling great. You continued with these procedures, changes became visible and you are hooked now. The next step you made, was combining the natural properties of breasts with the bimbofication related need to strive towards bimbo perfection and the far greater benefits of enhanced and artificially improved and enhanced "plastic tits". You did understand that plastic makes perfect and that enhanced tits are by any means superior to just normal breasts. By that, you did learn about the necessity of plastic and agreed to the doubtless advantages of breast enhancements, which means – you should have made the decision to aim for at least one breast augmentation to increase the appeal of your tits. Not only did you learn about everything there is to learn about different types of implants, types of surgeries, different sizes and kinds of implants – you absolutely did learn about the need to inform yourself and about the massive amount of benefits of breast augmentations. You made up your mind about what look you would like to have and how to achieve it (saline, filler or silicone? Over or under the muscle? Tear-shaped or round?). A consultation with a specialized and very capable doctor did clarify what your possibilities were – and it wasn't even that expensive. Expensive is what the implants and the surgery itself were going to cost… But either you already had the money for that, or you read about how to get bigger & better tits – and how you could actually get the needed money for your enhanced tits (and bimbo trainers and lovers do understand why they should support you). No matter what, the surgeon told you what your options were, about the possible maximum volume of your implants, what type and what visual appeal would be possible. You did not only remember reading about how 90% of girls who underwent those procedures did absolutely regret not having chosen far bigger implants, but you also remember reading about the most basic rule for bimbos regarding breasts. You are cleverer than those 90% of women who didn't read those two articles (1, 2) and made your choice: The look you wanted (saline or silicone, with a special shape or even custom implants) plus the biggest implants possible for you with the greatest volume. Time was drawing near, your appointment came closer, but you didn't know no fear. Sure, you were nervous, but you knew that, by maintaining your special work out, the special treatments and sticking to your dietplan, you prepared your body and your breasts in the best way possible. The day came, and it was over the blink of an eye. Everything went well and you became a proud owner of some enhanced, plastic tits. Wow… that feeling. Sure, the recovery phase was hard and painful – but that went by also, and it was less difficult for you because of your fantastic preparation. After you recovered, you immediately returned to your work out, your treatments, which became now more important than even, to prevent scars or post-op secondary failures and you even came back to your diet plan. Now you look at your own breasts in amazement and full of pride: They never looked so good before! You are proud – and you absolutely can be. These tits are FAR superior to everything else. Perfectly shaped, big and firm. Would be a shame if nobody else would see them? It was only natural: You wanted to showcase your new rack. You already had to buy new bras – the old ones wouldn't fit anymore. So, good thing you read that article about bras and push ups, so you could make sure you chose your new suitable underwear that fits your new rack. And because you were already on a shopping tour, why not buy some additional tops and fashion pieces that satisfy the visual appeal of your new boobs? You knew, that those tits had to be covered in the correct way, so you decided to remind yourself about the 6 rules of correct clothing for bimbo dolls. Took a look in the mirror with those pieces… looked fantastic, didn't it? Of course. Maybe you could add a little additional punch here or there? Maybe…? Well of course, with everything you had done so far, with everything you achieved, the new way of dressing, those additional accessories and of course the combined benefits of natural and artificial enhancements of your tits, you could stand in front of a mirror all day and admire yourself – or stay in bed and have some fun with your new tits, of which you have a hard time to keep your hands off anyways, but were there more ways to let them look even better? Yes, there were. After practicing a lot, many days and countless hours, you learned how to enhance your tits drastically by using optical illusions and make up. MUCH make up. It has become a part of your daily routine to chose a bra and a piece of clothing which satisfy the rules of bimbo fashion in these regards (everything else you just dumped!) and also to increase the visual appeal of your rack even more by using make up to let it appear bigger and more distinguished. Every day this is just one more aspect of your make up routine. Without even noticing, you started to make use of all these enhancements. Did you always push out your tits that way? Did you always pose like that? No, most certainly not. But what feels now like second nature to you now is just the result of your transformation. It is perfectly natural and reasonable. But you are a perfectionist! You read those articles about how to draw attention to your tits (THEY DESERVE IT! YOU – DESERVE IT!), how to showcase them, pushing them out, how to squeeze them and push them up, getting even more attention – and you mastered them all! You understood everything that was stated in those lessons, you practiced hard – but now all these poses, movements and ways of showcasing have truly become second nature to you. You do it constantly – every time – you even forgot how NOT to DO it. Perfection in every movement – You never felt so great and sexy before. This change didn't stay unnoticed. Not only you are taken hostage by the appeal of your tits – your surroundings share this fate. Did you ever before get so much attention? So many free drinks? So many little presents, complaisances and favors? Were you always treated so advantageous and favoured? Were people always so nice, courteous, helpful, attentive or forthcoming? Did you ever had so many admirers, proposals, "fans" or lovers? Not by any means. You did change – and the whole world around you seemed to have changed too. In a positive way. Girls want to be your friends, want to be around you, want to stay with you and admire you. Guys admire you, adore and worship you… and suddenly you found yourself in a situation, where you are the center of attention, the princess in every situation. You got the chance to pick with whomever you want to party, stay, kiss, make out, fuck, drink and dance with – boys AND girls. You can do whatever the fuck you want and stay on top – you have become the fucking queen of the world. Of course, soon this ended up in MANY adventures, many fun times where you could make use of your new rack and everything you achieved so far. And the pleasure was always intangible! Not only did you have fun like most "normal girls", but you also wanted to try something new. Nothing could stop you, so you dove deep into new, exciting and thrilling adventures – where you also knew what to do with your rack (and with that of the cute, sexy, bimbo doll you just took with you). Would you want to go back? No – most certainly not. You know what? You did it. Congratulations, you achieved the perfect bimbo tits! Well, at least you are one step closer to bimbo perfection and perfect bimbo tits. Remember to always strive for bimbo perfection and never let loose. Be dedicated, disciplined and eager. Stay that way and work hard. It will pay off! Within this series, there were many rolemodels who already did achieve different levels of bimbo perfection regarding their tits in different aspects, and you should take those as your prime examples and as guiding lights, like, for example, Sophia Vegas (further enhanced in the meantime), Lolo Ferrari, Aysha Soper, Candy Charms, Vanity Porn, Wendy Whoppers, (recently) Amanda Lovelie (check her new twitter pictures), EssexBunny (who did enhance herself again), Amy Anderssen, SaRenna Lee, Sarah Marie Summer, Lisa Lipps, Sila Star, Mary Madison, Pandora Peaks, Dolly Fox, Lena Lay, Plenty Uptopp, Danielle Derek (new perfect bimbo tits superstar!), Sabrina Sabrok, Lacey Wildd, Pamela Carolin Blond and Elizabeth Starr. Will there be more bimbo rolemodels with perfect bimbo tits? Yes, of course, like I explained here, there are MANY more to follow – but these should suffice at the moment to help you finding the look you want to go for. So – as I said – strive for bimbo perfection, strive for perfect bimbo tits! NOTHING is holding you back! Follow this roadmap and go for it. Never stop, always make sure you pay attention to all the rules and lessons, stick to the plan from start to finish, and then… are you ready to repeat?
So, that's it. We're done. I must admit, sporadically I wasn't so sure if I would be able to finish this series. It took quite some time (1,5 years!) and it was VERY hard work for me. I began this series because you guys voted for this topic after we reached 6000 followers on the tumblr-blog, a number that doubled, now that this series is finished. Having said that, I will begin posting the first parts of the NEXT multiple parts series soon. You guys wanted to read about bimbo make up and bimbo work outs, so… you shall receive what you asked for, but bear with me, I'm going to have a little break from such big projects until the end of the year. For now, I'm out – I wish you guys fun with this behemoth, a multiple parts series that deals with EVERY detail of bimbo tits and covers everything you need to know about how to achieve perfect bimbo boobs. If you think this fuckload of hard work should be rewarded, please think about becoming a supporter and patron on my Patreon page. This does help me and more than once it was my only motivation to continue with this monstrosity. I want to use this opportunity again to say "THANK YOU" to my supporters and patrons – you made this possible guys! Thank you very, very much. This is for you. As I said, have fun – and maybe, once again, read this, now completed series, about the perfect bimbo tits.
Discuss this on the academy subreddit!
Support me on Patreon! Every donation helps! These lesson papers can be downloaded in hi res there! Thank you very much!
There are many ways to support me! Please look into it!